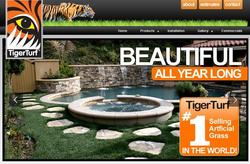 Anaheim, CA (PRWEB) March 28, 2010
Tiger Turf launches a one million dollar marketing campaign in Southern California to introduce the most beautiful artificial grass in the industry.
Tiger Turf is sure to create a buzz by launching the most advanced synthetic grass ever made. Tiger Turf is introducing its 2010 product lines, from residential and pet turf, to commercial and sports turf. All products are manufactured in the most moderns synthetic grass facility in the world, utilizing the latest yarn and infill technology. Tiger Turf's most advanced systems for landscape have been developed specifically to harmonize with the natural environment, improving safety for children, and increasing usage for the community, while significantly contributing to our water conservation
From San Diego to San Francisco, Tiger Turf will be utilizing various forms of advertising with the contribution of their experienced media partners-- Chota Media, Car Wash Ads, Five Star Publications, and an In-house internet optimization team that will be spearheading this significant push. The 30 second commercials will be airing on CNN, FOX, Oprah, Discovery, Home Channel, Food Network, ESPN, and Live at San Diego Padres games. Car Was Ads will be contributing by exposing full color displays with a coupon dispenser in over 300 full service car washes throughout California.
Five Star Mailings, a local direct mail company, will be mailing out mailers to the highest end consumers in Orange County, California. Tiger has put together a team of highly trained individuals to help optimize all their websites utilizing Google, Yahoo, and Bing. These online marketing campaigns will be organic and sponsored campaigns which will allow internet users to find Tiger Turf where ever they search.
Tiger Turf is supporting its dealers with this marketing campaign to generate wider interest in artificial grass and greater knowledge regarding the uses and advancements in this growing industry.
So get ready to hear their roar.
For additional information on TigerTurf and any of its products, visit MyTigerTurf.com.com and preview the commercials before they hit the air waves.
###