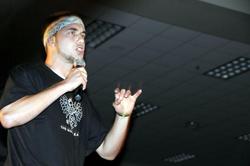 Signing a record deal with Tight Industries, was a big deal to me
Stratford, Ontario (PRWEB) September 9, 2009
New rapper sensation Mike Nedza has been signed to Tight Industries and is expected to release his debut song titled "Right To Rap"on Wednesday, September 23rd. Premiere album to follow shortly after.
Mike Nedza is the latest talent to be discovered through online social networking service YouTube. He quit his day job in Ontario, Canada and went all in for 8 weeks in search of a record deal. In total, Mike uploaded 8 videos, released over 8 weeks, with one goal of getting signed.
Not only did Mike win a local FM 96 radio competition, but his beat boxing skills and vocal flow were too strong to be ignored by Stratford's Tight Industries Inc. Record Label.
Colin James, the main A&R person at Tight Industries and CEO, states "It only took me a few seconds to realize we had an artist that is keen to go as far as we can take him. Mike is known for stringing more than 81 words in 15 seconds; he can keep a beat, create a beat, and can harmonize with a wide range of tones."
"Signing a record deal with Tight Industries, was a big deal to me" states music artist Mike Nedza.
"I am excited to be a part of this label. I'm really impressed how the label works with new artists from recording in the studio to marketing. I knew I would be getting a good shot at introducing my music and personal style, to a broader demographic, with an experienced organization. " Nedza adds.
Colin adds, "Mike is currently finishing up his debut album recording in our studio, and we believe he has a real and true story to tell."
Learn more about Mike Nedza and his 8 week story to get himself signed with release of his "8 Weeks All In" video finale. Watch Mike Nedza - 8 Weeks All In.
Check out all 8 episodes online at Mike Nedza.com
About Tight Industries Inc. Record Label
Tight Industries is a leading Canadian independent record label. Tight Industries develops and distributes major music recording artists, online-digital entertainment and music entertainment worldwide. We are on the web at http://www.tightindustries.com
# # #