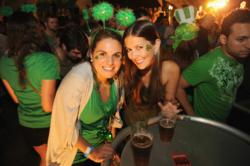 Stamford, CT (PRWEB) February 25, 2013
Tigín Irish Pub & Restaurant (Tigín), located on Bedford Street in Stamford will take on a "Lost Weekend" theme this year for its weekend long St. Patrick's Day party. Doors open on St. Patrick's Day at 10am and the huge heated party tent opens at noon. The St. Patrick's Day party is an all-day extravaganza of the best mix of Irish music, food and entertainment.
The Lost Weekend starts at Tigín on Saturday, March 16, or what has come to be known as St. Practice Day. Doors open at 10am and the huge outdoor party tent opens at 8pm. Also, bringing new meaning to Super Saturday, Tigín will feature live 6 Nations Rugby starting with Italy v. Ireland at 10:30am.
As usual, the authentic Irish pub will proudly begin celebrating St. Patrick's Day long before March 17 with events like a Parade Day celebration, an Irish Themed Pub Quiz and Jameson whiskey tasting. This year, guests will be hoping to inherit some of that infamous Irish luck, as the annual St. Patrick's Day celebration features a chance to win an all-expenses paid vacation for two to Ireland. The winner will receive flights, hotel and a tour of the Guinness Brewery at St. James Gate in Dublin. All you have to do to enter the contest is sign up for the Tigín email list.
TIGIN STAMFORD EVENT CALENDAR
Sunday, March 17
The St. Patrick's Day all-day event dedicated to live music and an authentically Irish party. Doors open to the biggest St Patrick's Day party in Stamford at 10am! Festivities include live music from The Last Hoorah, Bliss and Cray and Dempsey. The huge outdoor heated party tent opens at noon.
$10 cover starts at noon, 21+ all day.
Saturday, March 16
St. Practice Day Party
The biggest pre-St. Patrick's Day party starts at 10am. 6 Nations Super Saturday Rugby Matches start with Italy v. Ireland at 10:30. The outdoor party tent opens at 8pm with live music from Scratch throughout the night.
Saturday, 3/9
Parade Day Celebration.
It's the annual week before St. Patrick's Day celebration! Doors open at 9am and 6 Nations Rugby matches on live starting at 9:30. The huge party tent opens at noon with live music from The Irish Band and Spunk. $10 and 21+ starting at 4pm.
Tuesday, 3/12
Paddy's Day Pub Quiz at 8pm.
Test your knowledge of all things Irish. Great prizes up for grabs, including passes to our St Patrick's Day bash!
Wednesday, 3/13
Jameson Whiskey Tasting and drink specials.
Friday, 3/15
Armed Forces Day "Event in the Tent"
Event starts at 8pm. Live Music from the KC & Anne Band
Tigín is an authentic Irish pub- it was originally designed and built in Ireland and then shipped to Stamford. Tigín serves more Guinness than any other Irish pub in Stamford, all of which is to the highest standards. All of our Guinness comes straight from St James Gate, Dublin, Ireland.
To make it a true St. Patrick's Day in Stamford, Tigín Irish Pub will put special emphasis on proper Irish food and Irish drink. You will always get a perfect pint of Guinness, which is served along with proper Irish coffees, Bailey's Irish cream, and Stamford's widest selection of Irish whiskeys. All of our Irish food recipes are prepared from scratch: the traditional Irish Boxty, Corned Beef and Cabbage, and the Irish pub favorite like Fish & Chips. Tigín spares no expense to bring its customers the best Guinness and Irish food in the Stamford area.
About Tigín Irish Pub and Restaurant:
Tigín (pronounced Ti-geen) Irish Pub and Restaurant is distinguished by its genuine Irish hospitality, quality and craic (pronounced 'crack', a uniquely Irish form of fun). Tigín has been voted 'Best Of' by a number of local and national publications.
Get more information at http://www.tiginirishpub.com/stamford/st-patricks-day-2013 or http://www.facebook.com/tiginstamford or on Twitter @tiginstamford and hashtag #stpatricksday13
Pictures of Irish food, drink and the pub itself are available upon request. Irish barmen and chefs may be available for interviews and pouring and cooking demonstrations.
###
LOCAL MEDIA CONTACT: Ian Fulton, general manager – 203-353-8444