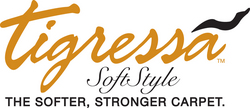 We are extremely thankful for CCA Global Partners' generous donation and their help in raising awareness for our organization and the importance of helping to save wild tigers
Manchester, NH (Vocus) November 23, 2010 —
After a successful launch of the new Tigressá Softstyle carpet, CCA Global Partners – the parent company of Carpet One Floor & Home and Flooring America/Flooring Canada recently donated $25,000 to the Save the Tiger Fund. The donation was based on a percentage of Tigressá Softstyle sales and tweets made by consumers throughout the launch promotion.
CCA Global Partners chose to partner with the Save the Tiger Fund in order to give back to the endangered species that inspired their new product. Save the Tiger Fund supports conservation efforts that enable endangered wild tigers to recover and flourish, and works to empower local people to live in balance with their natural surroundings.
"We are extremely thankful for CCA Global Partners' generous donation and their help in raising awareness for our organization and the importance of helping to save wild tigers," said Dr. Mahendra Shrestha, Director, Save the Tiger Fund.
Named after the tiger, one of the world's strongest and most visually stunning creatures, Tigressá Softstyle carpet features a one-of-a-kind blend of softness and strength through its makeup of precision-engineered, high-tensile denier filaments. These super-strong, precision nylon fibers have more filaments per square inch and thus can spread out daily carpet wear over more individual fibers – allowing Tigressá to take on more steps and more spills year after year. In addition, Tigressá carpet's fine-denier filaments utilize advanced yarn engineering and fewer dye pockets in each strand resulting in a luxuriously smooth softness and richer, longer lasting color.
"We felt that it was important to honor the species that inspired our new product by contributing to an organization that is making efforts to ensure that tigers will be around to inspire others with their beauty and strength for many generations to come," says Howard Brodsky, Co-Founder, Chairman, and Co-Chief Executive Officer of CCA Global Partners.
About Save the Tiger Fund:
Save the Tiger Fund was established in 1995 as a partnership between the National Fish & Wildlife Foundation and ExxonMobil Foundation. The Fund has invested more than $18.6 million in support of tiger conservation across the globe, with a particular focus in 13 countries in Asia where tigers exist in the wild. Its grants foster cooperation in illegal trade, preserve tiger habitat, encourage biodiversity, and ensure that humans and wild tigers can live in harmony. For more information, visit SaveTheTigerFund.org.
About CCA Global Partners:
CCA Global Partners is one of the largest privately held companies in the United States. For nearly a quarter of a century, CCA Global has partnered with entrepreneurial retailers to create a cooperative retail powerhouse unmatched in the marketplace. With 14 independent business brands – including Carpet One Floor & Home, Flooring America, and Flooring Canada – and more than 2,700 locations, CCA Global Partners is well positioned to positively impact the success of independent businesses. For more information on CCA Global Partners, go to CCAGlobal.com.
###