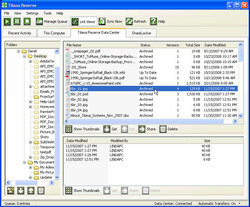 This is possibly the easiest and fastest path there is to complete online data protection
San Diego, CA (Vocus) December 3, 2008
Tilana Systems Corporation announced today the free availability of Tilana Reserve, its multi-computer online sync, backup, share, and archive SaaS, at Tucows.com.
Tilana Reserve can now be found at Tucows.com, categorized under "Windows > IS/IT > File management > Backup and restore." The following link redirects to the product display there (http://www.tilana.com/tucows).
During installation, users are given the opportunity of signing up for a free account. The short registration form at Tilana.com only requires name, email address, and agreement to terms & conditions, and then instantly provides the account Authorization Code needed to start using the software with full-featured Tilana Reserve service for 12 months. The same Authorization Code is then used to install the Tilana Reserve desktop software on an unlimited number of PCs for up to 2GB of backup, and sync through a common secure remote storage on the same account.
"This is possibly the easiest and fastest path there is to complete online data protection," said Derek Finley, Tilana Marketing VP. "Anyone can now instantly start backing up and syncing multiple Windows computers with nothing but their name and email address."
Any file on a Tilana Reserve enabled PC can be shared instantly through the same remote storage space, whether it's already backed up or not. Files that are backed up in the data center can be deleted from the PC and left archived in the remote storage space indefinitely.
Users of the free 12-month Tilana Reserve account can get more storage space by upgrading at any time to a paid account.
The (multi-computer) Pro Sync Account is $49.95 per year and includes 30GB of backup, sync, and archive for unlimited computers ($0.50/GB/mo over 30GB additional).
The (single computer) Standard Unlimited Backup account is also $49.95 per year and includes unlimited backup for any single computer, regardless of its hard disk storage capacity (Ongoing archive storage for version history and deleted files over 30GB is $0.50/GB/mo). Both $49.95/yr accounts, as well as the free 12-month account, are all available at the Tilana Reserve Web site (http://www.tilanareserve.com).
Tilana Reserve goes beyond leading simple backup offerings, to offer multi-computer sync and backup, along with user managed archive enabling customers to remove content that's no longer needed on their computers, but that still needs to be saved and accessed in secure, dependable storage.
None of the leading online backup solutions allow files to remain in their data centers for more than 30 days after they've been deleted from protected computers that use their backup services. If a file is accidentally deleted from the protected computer the customer only has a month to notice that it's gone in order to retrieve the file before it is permanently deleted.
Much more than online backup alone, online storage with Tilana Reserve automatically includes archive storage in the data center, billed at $0.50/GB/mo beyond the 30GB included in the flat annual account pricing, all in the 100% user managed secure and web accessible Personal Digital Archive™.
About Tilana Systems Corporation:
San Diego based Tilana Systems Corporation brings true value to cloud storage, by providing continuous data protection, permanent archival, web & mobile access, version history, and multi-computer synchronization on one balanced, quickly deployed, versatile, and extensible online CDP data protection and storage based synchronization platform.
Storage systems built on the Tilana Cloud platform provide end users the best kind of data protection, with encrypted true real time CDP ("Continuous Data Protection" from automated schedule-free immediate backup transfers), automated multi-computer content synchronization, and secure remote archive, with unlimited version history that enables instant any-point-in-time content recovery from PCs, Web browsers, and mobile devices.
Please visit Tilana.com for more information on Tilana RealCDP and Tilana Systems Corp.
The names ShareLocker™, Tilana™, Tilana RealCDP™, Tilana RealCDP™ Enterprise Suite™, Tilana Client™, Tilana WebClient™, Tilana MobileClient™, Tilana Cloud™, Tilana Reserve™, PayOnce™, and Personal Digital Archive™, as well as their associated pinecone logos and the name, are all trademarks of Tilana Systems Corporation. The words "Cure for the Common Backup™" and "Protection, Access, Synchronization, Anytime, Anywhere, Always™," when used together and in sequence, and whether used in whole or in part, are also trademarks of Tilana Systems Corporation. All other trademarks are the property of their respective owners.
Media Contact
Derek Finley, VP Marketing
Tilana Systems Corporation
619.807.1437
###