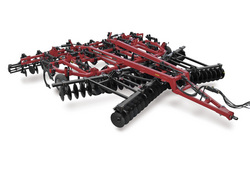 Case IH's true five-section machines follow ground contours better and transport narrower than other machines
Racine, WI (PRWEB) September 2, 2009
Perform tough tillage tasks faster, better and on a larger scale thanks to four new sizes of key tillage models from Case IH, a global farm equipment manufacturer. New offerings for 2010 include:

42-ft. 5-in., five-section True-Tandem 330 Turbo vertical tillage unit
26-ft. Ecolo-Tiger® 870 disk ripper
42-ft. 4-in. and 46-ft. 7-in., five-section sizes of the True-Tandem 370 disk harrow
"We listened to our customers, and now we have delivered an expanded Case IH tillage lineup with key models in new sizes that are bigger and stronger, and offer greater efficiencies in time, labor and fuel usage," says Rob Zemenchik, Case IH marketing manager for tillage products. "To achieve timely field operations in larger operations we dramatically increased the size of our proven implement designs to achieve industry-leading capacity for fall or spring field operations. Ultimately, Case IH customers will be better positioned to utilize the power of the largest 4WD tractors on the market, get through the field faster in the spring and capture higher yield potential."
True-Tandem 330 Turbo
Now available in a new, larger working width of 42 ft. 5 in., the Case IH True-Tandem 330 Turbo vertical tillage tool offers a unique ability to consistently level the seedbed and prep for planting with a true five-section design. Competitor designs frequently lack the field-following capability that a five-section frame design offers: "Case IH's true five-section machines follow ground contours better and transport narrower than other machines," points out Zemenchik.
All Case IH True-Tandem 330 Turbo models maintain the True-Tandem design, enabling the machines to pull straight and run evenly behind the tractor. Industry-exclusive Case IH turbo blades use a patented design that moves soil up, over and out, leveling fields for later planting operations. The new larger configuration continues to feature 20-in. turbo blades for a greater capacity to take out weeds, shallow compaction and soil crusts.
And, at an operating speed of 7 - 9 mph with AFS® AccuGuide™ Autoguidance, the 42-ft. True-Tandem 330 Turbo can cover 1,000 acres in 24 hours at 90 percent field efficiency. "Typically, only 0.4 - 0.5 gallons per acre of fuel are required, which is tremendously economical for fall residue management or spring seedbed preparation," Zemenchik notes. "The 330 Turbo is the only vertical tillage tool in the marketplace capable of leveling the soil with this kind of productivity. No one can touch it at these speeds."
Additionally, because the True-Tandem 330 Turbo disturbs less soil, maintains more residue and allows less erosion than traditional tillage practices, it is more environmentally sustainable. "Sometimes, less is more," Zemenchik says. "With the Case IH True-Tandem 330 Turbo, you can move faster through the field and make fewer tillage passes, but still deliver a level seedbed that allows your planter to optimize its performance."
Stronger walking tandems throughout the machine, including 16.5 x 16.1 FI (E) on the center section mainframe, distribute weight better over uneven ground and improve the machine's durability. The design helps keep the blades in the ground consistently for a level soil profile, even operating at high speeds. A new adjustable castering gauge wheel on the outer wings hugs ground contours and helps maintain a uniform cutting depth, even in rough terrain.
For added durability, the new 42-ft. Case IH True-Tandem 330 Turbo also features a bearing shield that stands up to the abuse of rocky and muddy conditions. The 25- and 34-ft. sizes have a new round-bar basket option for bumpy, stony conditions or where soil needs more firming.
Ecolo-Tiger 870
At 26-ft. wide, the new Case IH Ecolo-Tiger 870 is the largest, most aggressive, full-depth disk ripper in the industry. It can manage crop residue, control compaction and prepare the seedbed in one pass, going up to 7 mph, covering 22 acres an hour. "It creates a good environment for future planting operations, yet maintains the benefits of mulch cover," says Zemenchik.
Like all Case IH Ecolo-Tiger 870 disk rippers, the new 13-shank 26-ft. configuration comes with 24-in. individual disks or huge, optional 26-in. cushion gang disks for unmatched residue cutting, sizing and mixing out the front. Then the heavy-duty shanks shatter root-limiting compaction and soil clods. This combination action allows for better seed-to-soil contact in the seedbed, and more readily available nutrients in the soil, especially in high-yield environments.
"Aggressive sizing and mixing of today's more lignified transgenic corn residues, for example, assists in the decomposition process and allows for nutrient release in sync with subsequent crop demand, just as microorganisms, soil moisture, warm temperatures and residual nitrogen also contribute," Zemenchik explains. "Nutrients cycled in this manner build soil organic matter and offset the carbon dioxide losses often attributed to tillage. But you have to have a machine that can also handle the higher volumes of biomass found in today's heavier crops."
Out the back, multiple leveling system options on the 870 are tailored to field conditions to prepare the optimal seedbed. An optional Double-Edged Reel follows behind to crush clods up further and get the finer soil particles into the seed zone. "The unique, patented design also restricts mud from flowing and accumulating in the center of the reel, unlike competitors' designs. This gives you a wider operating envelope under wetter conditions," adds Zemenchik.
And, continuing the Ecolo-Tiger legacy, the Case IH Ecolo-Tiger 870 levels soil out the back with a patented disc leveler assembly. The assembly features opposing blades affixed to a single heavy-duty mount that is 10 percent shorter than competitive machines.
True-Tandem 370 disk harrow
The Case IH True-Tandem 370 disk harrow, ideal for maximum penetration in heavy crop residues and harder soils, is now available in new, larger working widths of 42 ft. 4 in. as well as 46 ft. 7 in. As in the past, the 370 maintains the Case IH True-Tandem technology design, but the larger configurations sport a new, true five-section frame to better follow ground contours. They can also go up to 7 mph without ridging, unlike slower competitive models.
The new model sizes also have 24-in. blades (available in optional 5 mm or 6.5 mm thicknesses) with a crimped-center design, matched to flat-faced cast nodular spools for maximum gang strength and clearance.
"The True-Tandem 370 sizes residue properly and mixes soil amendments thoroughly in a wide range of soil conditions," says Zemenchik. Plus, an optional tine harrow on the back is available for finer soil finishing.
Shared performance-enhancing features
At just under 30,000 lbs., all three of the new, larger Case IH tillage configurations deliver increased downforce to cut, size and mix even the toughest residue. "However, they optimally distribute the weight across the machine and maintain ideal weight per blade, without relying on horsepower-robbing tractor hydraulic downpressure systems or supplemental weight packages seen on competitors' models," notes Zemenchik.
And, they offer more convenient transport - because farmers' fields may be getting bigger, but their roads aren't. "All of the new size configurations are wider to cover more ground in the field, but with the five-section True-Tandem machines, they are only 13 ft. 4 in. tall in transport, which is helpful for farmers when maneuvering on narrow roads or under bridges with low clearance," says Zemenchik.
All Case IH Ecolo-Tiger 870 configurations, including the new 26-ft. size, are less than 18 ft. 6 in. wide, only slightly outside the dual tires for most matching 4-wheel drive tractors.
All new models available for spring 2010 use
All three machines are available for immediate production and 2010 field season use. Customers will have the opportunity to see the machines first-hand at farm shows across the Midwest this fall. All Case IH tillage tools are produced at the soil management manufacturing facility in the heart of the Corn Belt in Goodfield, Ill.
Case IH is a global leader in agricultural equipment, committed to collaborating with its customers to develop the most powerful, productive, reliable equipment - for those who demand more. With headquarters in the United States, Case IH has a network of dealers and distributors that operates in over 160 countries. Case IH provides agricultural equipment systems, flexible financial service offerings and parts and service support for professional farmers and commercial operators through a dedicated network of professional dealers and distributors. Productivity enhancing products include tractors; combines and harvesters; hay and forage equipment; tillage tools; planting and seeding systems; sprayers and applicators; and site-specific farming tools. Case IH is a brand of CNH (NYSE: CNH), a majority-owned subsidiary of Fiat Group (FIA: MI).
###