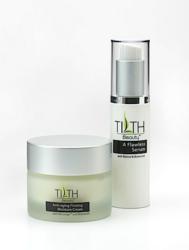 products are committed to making one's skin look and feel smoother, firmer and healthier
New York, New York (PRWEB) November 13, 2012
It's all in the ingredients! And BeautyStat.com -- the leading online beauty community for skincare reviews and makeup reviews -- knows it! BeautyStat.com is excited to celebrate and introduce Tilth Beauty anti-aging skincare in its latest readership giveaway! Tilth Beauty's goal is to protect, replenish and rejuvenate the skin using safe and effective naturally based products. Over thirty years of experience in skincare research and development, Tilth Beauty has developed some of the best all-natural, organic products to combat wrinkles and loss of hydration with state-of-the-art technology. This line of effective anti-aging products are committed to making one's skin look and feel smoother, firmer and healthier. Natural ingredients are the secret to beautiful looking skin: marine ingredients such brown alge, alteromonas and wakame; botanicals derived from trees and plants and vitamins all make up the foundation of Tilth Beauty.
BeautyStat and Tilth Beauty are teaming up to offer two skin-enhancing and -changing products to thirty lucky winners: the Anti-Aging Firming Moisture Cream and Flawless Serum -- each formulated with natural ingredients including Myrtle Leaf Extract, Pistacia Vera (Pistachio) Seed Oil , Adaptonyl® and more to help turn back the clock... the natural way! All readers have to do to be eligible to win two full-size bottles of each product is let BeautyStat know why this new line of organic skincare products would help improve the health of their skin. Tilth Beauty skincare products nourish and protect the skin with the some of the earth's best natural and organic ingredients -- allowing everyone to not only have good-looking skin, but healthy skin.
BeautyStat.com (a NYC tech startup) is an online beauty community - consisting of beauty product reviews - and social marketing agency for the beauty industry. It has been featured in Womens Wear Daily, New York Times, Forbes Magazine, NBC and CBS News. The strength of BeautyStat.com is its captive, engaged and influential 100,000+ community, 190+ blogger network and 40 million social network reach. BeautyStat.com works with beauty brands, retailers and PR agencies to connect them to the BeautyStat community for online PR events, advertising and rich consumer insights.
BeautyStat.com was founded by beauty entrepreneur Ron Robinson. Ron is a veteran cosmetic chemist who has worked for such leading beauty companies as The Estée Lauder Companies, L'Oreal, Avon Products and Revlon Products. Ron is currently a resident beauty expert for Allure magazine.