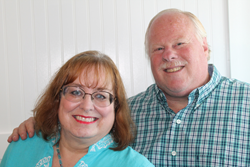 We care about the people in our community and we want to work with each individual client to create a plan that works and then walk them compassionately through the process. We are problem solvers and we understand that every situation is unique. - Tim Baker
TORRANCE, Calif. (PRWEB) November 01, 2018
Tim and Heather Baker are pleased to announce the launch of their new local business, Caring Transitions South Bay/PV.
Caring Transitions' specially-trained professionals handle organizing, packing, de-cluttering, moving, resettling, in-person and online estate sales, liquidations, and preparing homes for market. Caring Transitions South Bay/PV serves Torrance, Redondo Beach, Hermosa Beach, Rancho Palos Verdes, Palos Verdes Estates, Rolling Hills, Rolling Hills Estates, San Pedro and the surrounding areas.
Caring Transitions' services are perfect for managing the many aspects of a senior move or assisting with the process of downsizing to provide a safer living situation as well as for busy families and people clearing out the home of a loved one who has moved into assisted care or passed. All of Caring Transitions' services are customizable, so clients choose the solution that best fits their needs – whether that means managing the entire move and estate-clearing, just getting someone resettled into their new place, or anything in between.
"Most people don't want to talk about these kinds of transitions, especially as we get older, but that makes it even more overwhelming when the time comes that something needs to change. We want people to know that this kind of senior- and family-focused service is available. You don't have to face this transition alone," Heather said.
In addition to the in-person services available through Caring Transitions, the Bakers also offer private, online auctions through CTBids.com, which is a great solution for those living in gated communities with rules about estate sales.
Tim and Heather have lived in Torrance since 1990 and both of their girls, Jasmine and Ginger, attended Torrance High School. Tim spent the last 27 years as a consumer product developer while Heather worked as a professional organizer and associate pastor. Tim and Heather were both thinking about their next steps when they heard about Caring Transitions.
"We recently moved two parents to a smaller house and one parent to assisted living, so we understand the emotional and physical challenges of those kinds of transitions. Sometimes it takes a lot of hand holding and that's OK. We care about the people in our community and we want to work with each individual client to create a plan that works and then walk them compassionately through the process," Tim said. "We are problem solvers and we understand that every situation is unique. That's why we don't offer cookie cutter services."
Caring Transitions is bonded, insured and their W2 employees have been background checked. For additional information about Caring Transitions South Bay/PV, call (310)924-6048, email TBaker@CaringTransitions.com or HBaker@CaringTransitions.com, or visit http://www.CaringTransitionsSBPV.com.
About Caring Transitions
Caring Transitions, founded in 2006, is the first national franchising concept specializing in senior relocation and transition services. With more than 200 locations throughout the United States all owned and operated by Certified Relocation and Transition Specialists, Caring Transitions provides clients with supportive moves, auctions, rightsizing and transitions. This includes expert advice plus a well-executed transition plan beginning with the initial sorting of personal belongings through packing, shipping and selling of items to the final clearing and cleaning of the property. For more information, visit http://www.caringtransitions.com or visit us on Facebook.