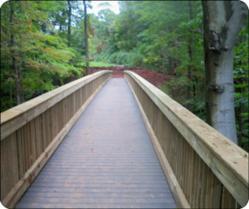 Working with YBC was a pleasure. They provided flexible design and budget options that best fit the project needs. They hit their scheduled dates and addressed all inspection issues promptly and professionally while on site.
Lutz, Florida (PRWEB) March 01, 2012
York Bridge Concepts, Inc. (YBC) recently completed Choate Rosemary's six-foot wide, 161-foot long timber pedestrian bridge for their Kohler Environmental Center. Located in Wallingford, Conneticut, the Choate School and Rosemary Hall merged into Choate Rosemary in 1974.This prestigious preparatory school represents the best in American secondary education and has educated many famous characters such as John F. Kennedy, James Whitmore, John T. Downey, Michael Douglas and Herbert Kohler (who donated 20 million dollars towards Choate's new Environmental Center).
This York pedestrian bridge is made up of four spans (from 25 feet to 53 feet) and can be found crossing a deep ravine with a brook, connecting a main parking lot to the new Choate Rosemary Kohler Environmental Center — a 20 million dollar, environmentally sensitive, energy and resource-efficient, "working laboratory" center located just East of Choate Rosemary's main campus. The Center is located on 268 acres of undeveloped/protected land and will open to students Fall semester, 2012.
York Bridge Concepts relied upon their years of timber bridge design and construction experience when designing this bridge which, not only minimized the environmental impact at the construction site, but also reduced the cost of the bridge by a substantial amount from the original design concept presented to YBC. "At YBC, we have always believed that our design and build process allows us to offer clients savings on their budgets and schedules, giving them a bridge that will be built to the highest standards and will last for generations," stated James York, Owner of York Bridge Concepts, Inc. With environmental and budgetary concerns in mind, York Bridge recommended that their client use pile foundations drilled/driven into a rock layer as it is a less expensive, disruptive and invasive construction method (as opposed to concrete foundations). According to Michael Kearns, Senior Project Manager at Shawmut Design and Construction, "YBC is an expert of timber bridge construction in wetlands and they designed to fit our budget."
This bridge design also achieved a continuous arch or "roll" with the four architectural glue laminated spans of 25 feet to 53 feet that create its 161-foot length. Even though there was a four-foot grade difference from one end of the bridge to the other (with a 2800-foot vertical camber), YBC was still able to achieve ADA requirements. The Choate Rosemary bridge is 18 feet at its highest point and Catlin Brook (flowing from the Long Island Sound) runs through the 53-foot span. This bridge is rated 85 PSF LL for pedestrian use and features heavy timber picket rails that conceal low voltage lighting. Another feature of this bridge is composite decking which is made up of 95% recycled, reclaimed and wood fibers. Composite decking has a longer lifespan than treated wood and no trees are harvested in its production.
"Working with YBC was a pleasure. They provided flexible design and budget options that best fit the project needs. They hit their scheduled dates and addressed all inspection issues promptly and professionally while on site. I would welcome the opportunity to work together again," Kearns concludes.
Follow YBC's Bridge projects on Facebook at http://www.facebook.com/yorkbridgeconcepts. To see more information about the design and construction of this bridge, visit the Sustainable Building Construction blog.
About York Bridge Concepts
York Bridge Concepts, Inc. (YBC) is the nation's largest on-site timber vehicular bridge builder. YBC works with industry-leading owners and developers on prestigious projects throughout the U.S. and Internationally, creating more than just a solution for crossing lakes, streams, creeks, wetlands or ravines. In this competitive real estate market, developers who want to ensure that their project stands apart from the competition use York Bridges to add value and create a feeling of exclusivity, warmth, and quality for their customers. Based in Lutz, Florida, with 28 years of experience, YBC has become well-known for their expertise and cutting-edge innovation in timber bridge design and on-site construction.
YBC's Pedestrian Bridges
York Bridge Concepts has been selected for many prestigious projects such as the Discovery Park Museum, the Disney Institute and the University of Texas. YBC's endless designs can give each client their very own unique bridge that they can truly call their own while utilizing a wide range of high-grade materials. YBC's expert teams of installers are known for their on-site craftsmanship, building each pedestrian bridge one board at a time. A York pedestrian bridge is an asset to any project and will last for generations.
For more information, please visit YBC's website at http://www.ybc.com.
###