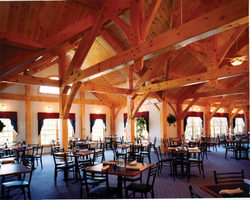 We are extremely excited to add Larry to our team of Independent Representatives
Claremont, NH (PRWEB) June 17, 2008
Davis Frame Company, Claremont NH, experts at designing and manufacturing timber frame homes, announced today the expansion of sales and technical support for its complete line of high performance timber fame and panelized home products into the southeastern region of the United States with the appointment of Larry Watford as the authorized independent representative for the area. With over thirty years experience in construction, project management and Real Estate, Larry, offers Davis Frame clients and customers, hands on support for every phase of planning, designing, and building a modern, high efficiency, custom timber frame or predesigned classic barn home.
Larry and his wife Gean, are natives of Gadsden, Al and graduates of Auburn University. After a thirty year career in the electronics industry which included international and domestic assignments, Gean and Larry settled in Johnson City, TN. Both are licensed Real Estate Brokers and the owners of Watford Construction Company. The company specializes in managing and building primary and secondary mountain and lake homes in the area.
With a BS in Electrical Engineering, Larry is particularly enthusiastic with the high efficiently aspects of a Davis Frame timber frame structure. Coupled with SIP and soy based, foam filled wall panels, Davis Timber Frame and Classic Barn Homes offer long term energy savings, comfort, and beauty. The classic elegance of an exposed Timber Frame skeleton enables outstanding structural strength and best use of natural resources. Davis uses only standing dead or farm grown, renewable timber products for its factory designed and machined Timber Frame Components.
"We are extremely excited to add Larry to our team of Independent Representatives," states Gary Barto, Independent Representative Manager for Davis Frame Co. "Larry will be a valuable resource for anyone in the southeast looking to build a timber frame home. They can rely on his depth of experience in managing construction projects as well as his local knowledge and contacts to make their timber frame home project run smoothly."
All components are designed using the latest engineering software, which, upon completion, feeds cutting instructions directly to specialized CNC cutting equipment on the Davis factory floor. This computerized process, allows homeowners a high degree of flexibility in design, while eliminating field construction errors and on site waste. Larry's combined experience in computerized design and construction will provide Southeastern area clients with real time, knowledgeable, personal support in planning, ordering, and building a high performance, elegant Timber Frame or Classic Barn Home.
Watford Construction, General Contractors, offers complete site preparation, erection, and finishing services in the East Tennessee area. An experienced project manager, Larry can also provide construction management services should your project fall outside his companies direct service area. Working for the owner, with qualified local contractors, Larry will insure your project comes in on budget and on schedule, with a minimum impact to the owners normally busy schedule. Watford Construction offices are located at 415 HWY 90, Suite 101, in Elizabethton TN just outside the Johnson City/Kingsport/Bristol metro area.
In a Unicoi County Planning meeting Tuesday, Watford announced plans for a model home to be built just north of Flag Pond. The home will be open to the public and will operate as a B&B in hopes of promoting tourism in the area.
For more information contact:
Reid Greenberg
603.543.0993
reid @ davisframe.com
Or visit http://www.davisframe.com/
Larry Watford
423-676-6829
Larry @ larrywatford.com
Or visit http://www.larrywatford.com
###