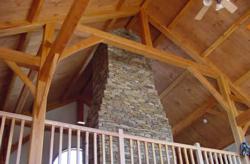 We love offering our customers creative and less expensive options to realizing their dream of owning a timber frame home. - Ron Gabany, CEO of Atlantic Timberframes, Inc.
Mercer, Pennsylvania (PRWEB) May 22, 2013
Atlantic Timberframes provides additional timber framing options as a custom timber frame home builder focused on one thing -- building customers their timber frame dream home. Two options that many may not realize exist are timber frame kits and hybrid timber frame homes.
The concept of a timber frame kit has been around for over 100 years. A company called Aladdin Homes began offering home kit packages in 1906. One could buy a five room Aladdin house kit for $298 in 1915. This represented a new and innovative approach that started a home construction movement away from timber frame home building to using pre-cut timber consisting mostly of 2x4's and 2x8's framing lumber. This idea started to catch on and a small company at the time, called Sears, Robuck & Company, jumped into the business in 1908 and sold approximately 70,000 house kits through a mail-order modern homes program.
The hybrid timber frame home is what a person might expect based on the name - it's a home that combines today's "stick-built" process with a section of the home built using timber frame construction. For example, many homeowners are adding the beauty and warmth of a timber frame by adding timber-framed great room, master bedroom, kitchen, or a combination of all three. Hybrid timber frame homes combine the old world craftsmanship of a timber frame with today's modern home-building approach. This approach can provide a creative and less expensive way of incorporating a timber frame into a home.
Atlantic Timberframes is pleased to provide home owners and builders with multiple ways of incorporating the handcrafted quality of a timber frame into their homes. Have questions on timber frame kits or hybrid timber frame homes? Please contact Atlantic Timberframes using the contact information below or visit their website.
About:
Atlantic Timberframes, Inc.
Atlantic Timberframes is a family business made in America. They have been building unforgettable timber frame homes for over 20 years. The company's mission is to build the best timber frame homes possible for their customers, who they come to know and like during the design and build process.
web: http://www.Timberframes.com
Contact: info(at)timberframes(dot)com