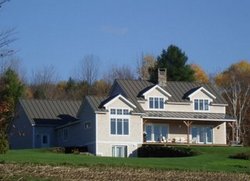 The energy efficiency of our timber frame home is an unanticipated benefit which we are now appreciating. We're very happy with our choice!
Claremont, NH (PRWEB) March 15, 2008
Davis Frame Company, one of the country's premiere timber frame home companies, is proud to announce that one of their timber frame homes recently qualified for the highest rating Energy Star awards. The client's home, located in central Vermont, received Energy Star 5+ rating which nearly exceeds perfection. The home is 4407 square feet and is a hybrid combining a unique blend of timber frame home design with conventional building.
The timbers in the timber frame portion of the home are carefully crafted with Douglas fir. This energy custom efficient home is insulated with structural insulated panels (SIPS) 4-1/2 wall panels (R21) and 10-1/4 EPS roof panels (R38), from Foard Panel. In order to qualify as an Energy Star home, the Vermont couple had a blower door test performed, which measures the air tightness of the home. To help create a more energy efficient home, high energy efficient doors, windows and appliances were incorporated into the home.
"The energy efficiency of our timber frame home is an unanticipated benefit which we are now appreciating. We're very happy with our choice!"- Joan and Brian
Davis Timber Frame Company Can Help Build Your Energy Star Timber Frame Home
Davis Frame Company's timber frames ensure that your timber frame home contains extremely high-quality craftsmanship combined with energy efficient structural insulated panels (SIPs) in the wall and roof system to create an energy efficient green house by design. With the use of passive solar into the design of your new timber frame home, energy efficient windows, and SIPs, a highly energy efficient home can be built that can be far superior than a typical log or conventional "stick-built" home.
"The timing is serendipitous," states Reid Greenberg, Director of Marketing and eCommerce for Davis Frame Company. "The consumer is asking for a combination of beautiful aesthetics and unmatched energy efficiency in their new homes. By default, the process we use for our timber frame homes fit this model perfectly. The time for the timber frame industry to reach the broader market has come."
Davis Frame's in-house design team has a wealth of knowledge in green building design, home orientation, and passive solar considerations, which fits in perfectly with the company's goal of providing energy efficient homes. Davis Frame can help your home or commercial buildings meet Energy Star standards as well as qualify for LEED certification.
More on Energy Star
There are many benefits for receiving an Energy Star rating for your new timber frame home which include a federal tax break as well a significant saving in energy costs. Here are some quick and easy solutions to make your current home more energy efficient such as the following:

Purchase Energy Star appliances
Install a qualified programmable thermostat
Use of compact fluorescent light bulbs
Install or replace highly efficient windows and doors
Do-it-yourself sealing of air leakage
The use of ceiling fans
Adding more insulation to your attic could help reduce energy costs
Replace your old HVAC heating and cooling system with an Energy Star rated system
Use Energy Star rated AC window units
About Davis Frame Company
Davis Frame Company's mission is to provide customers with the finest timber frame homes. Learning, growing and adapting over time has meant incorporating the latest advances in design and production, integrating more efficient building systems into home designs, and embracing new materials and technologies.
For more information or to order their free timber frame CD or information, please visit Davis Frame. You can also visit their Timber Frame Blog to find out more information on building your dream green timber frame home.
# # #