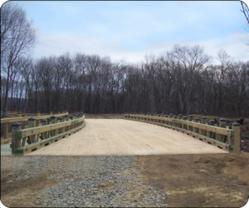 The build time of a YBC bridge was almost half of standard construction and in our opinion the final product was superior to the concept of a concrete structure.
Lutz, Florida (PRWEB) April 03, 2012
Just West of the Naugatuck State Forest in Oxford, CT, York Bridge Concepts, Inc. (YBC) has completed the construction of a 120-foot, double-lane timber vehicular bridge with pedestrian walkway. According to John Engdahl, Director of Land Development for PulteGroup, "the bridge is a show piece for the fourth phase of our Del Webb community at Oxford Greens. Phase four introduces a new product to the community which showcases attached single family homes to our active adult buyers. Nestled around an 18-hole, nationally-known golf course, it affords the residents a lifestyle that Del Webb is famous for. With a spacious clubhouse, indoor and outdoor pools, tennis and bocce courts, Oxford Greens has something for all active adults."
YBC was chosen for this project because of their design, price, environmentally-friendly construction methods and timeliness. "They provided a comprehensive package which included a design at a competitive price. YBC also allowed for a 'hands on' approach to the aesthetics of the final product which in our opinion was a huge selling point to accent our unique project. Concrete standard construction was double the price and build time. Concrete would have also required wetland replication due to the disturbed areas involved. The other timber bridge design provided was not a full design, but the budget number provided was almost 50 percent more than YBC's cost," stated Engdahl.
PulteGroup chose timber over other materials because "a 'standard' bridge brought with it a number of additional challenges." These challenges include the disturbance of the wetlands with conventional construction methods as apposed to YBC's deck-level construction method (also known as top down construction) where the bridge is built from its own deck, literally reducing the "footprint" of the bridge itself. This innovative construction method alleviated many of the permitting challenges that could have arisen from standard construction methods. "Time of construction was also considered in our evaluation. The build time of a YBC bridge was almost half of standard construction and in our opinion the final product was superior to the concept of a concrete structure," stated Engdahl.
Acting as a necessary access point from the fourth phase to the rest of the Oxford Greens community, the YBC bridge features a quick turn, sophisticated "Sienna-style" handrails and "K-style" guide rails built with heavy timbers that are blended with bronze metals which complements the bridge's unique appeal. Engdahl concludes, "the concept of a timber bridge not only highlights our attention to detail, it also brings a focal point to the entrance of the community."
Follow YBC's Bridge projects on Facebook at http://www.facebook.com/yorkbridgeconcepts
About York Bridge Concepts
York Bridge Concepts, Inc. is the nation's largest on-site timber vehicular bridge builder. YBC works with industry-leading owners and developers on prestigious projects throughout the U.S. and Internationally, creating more than just a solution for crossing lakes, streams, creeks, wetlands or ravines. In this competitive real estate market, developers who want to ensure that their project stands apart from the competition use York Bridges to add value and create a feeling of exclusivity, warmth, and quality for their customers. Based in Lutz, Florida, with 28 years of experience, YBC has become well-known for their expertise and cutting-edge innovation in timber bridge design and on-site construction.
YBC's Vehicular Bridges
York Bridge Concepts has been selected for many prestigious projects such as the Bahia Beach Resort in Puerto Rico, Mt. Washington Resort in New Hampshire and Laughlin Ranch Development in Nevada. YBC's custom-designed timber vehicular bridges give each client a unique bridge while utilizing a wide range of high-grade materials and innovative construction techniques. The design is personalized to meet the needs of the client, the environment and the client's budget. YBC's expert teams of installers are known for their on-site craftsmanship and professionalism. With proper maintenance, a York vehicular bridge will last for generations.
For more information, please visit YBC's website at http://www.ybc.com.