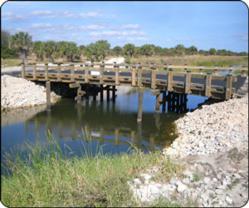 "YBC's project came in quite a bit lower in cost than the cement bridges and in these economic times, that is the reason we chose to go with York Bridge Concepts."
Lutz, FL (PRWEB) March 22, 2012
York Bridge Concepts, Inc (YBC) has recently completed Wild Turkey Estates of Vero, LLC's double-lane, 65-foot timber vehicular bridge in Vero Beach, Florida. The bridge connects the main road to land that was originally purchased for community development; but after discovering coquina rock, the development site quickly transformed into a rock mining site.
YBC was chosen to become a part of this project because, according to Duane Pankratz, Site Owner, "YBC's project came in quite a bit lower in cost than the cement bridges and in these economic times, that is the reason we chose to go with York Bridge Concepts." Another priority for this project was durability. York Bridge Concepts relied upon their years of timber bridge design and construction experience to create this AASHTO-rated, timber pile-supported bridge with an HS20-44 L/500 vehicular loading capacity to ensure that heavy equipment could easily travel to and from the mining site. The bridge features triangular-shaped radiuses off of the roadway end of the bridge that create a nice transition for the mining trucks coming directly from the main road.
For added durability, traction and longevity YBC applied two layers of type III DOT epoxy coating to the wear deck and broadcasted Black Beauty aggregate on top of each layer. The epoxy/aggregate application offers skid and water resistance, providing extra traction for the trucks and extending the longevity of the bridge's wear deck. This epoxy aggregate is manufactured from recycled coal-combustion product and is 99 percent Silica-free. James York, President of York Bridge Concepts, stated, "We can build our wooden vehicular bridges with enough strength to hold up to the rigorous use of trucks or tanks for generations."
This coquina rock site will be mined for the length of the permit (10 years). According to Ameron Homes' Political Coordinator, Todd Broughnon, "We do not have any current plans for the site after our permit expires, but if we do decided to construct a development as originally planned, our York Timber Vehicular Bridge would be its entryway. YBC executed every element of the Wild Turkey Bridge project with timeliness, professionalism and a high quality of design and craftsmanship."
Follow YBC's Bridge projects on Facebook at http://www.facebook.com/yorkbridgeconcepts
About York Bridge Concepts
York Bridge Concepts, Inc. (YBC) is the nation's largest on-site timber vehicular bridge builder. YBC works with industry-leading owners and developers on prestigious projects throughout the U.S. and Internationally, creating more than just a solution for crossing lakes, streams, creeks, wetlands or ravines. In this competitive real estate market, developers who want to ensure that their project stands apart from the competition use York Bridges to add value and create a feeling of exclusivity, warmth, and quality for their customers. Based in Lutz, Florida, with 28 years of experience, YBC has become well-known for their expertise and cutting-edge innovation in timber bridge design and on-site construction.
YBC's Vehicular Bridges
York Bridge Concepts has been selected for many prestigious projects such as the Bahia Beach Resort in Puerto Rico, Mt. Washington Resort in New Hampshire and Laughlin Ranch Development in Nevada. YBC's endless designs can give each client their very own unique bridge that they can truly call their own while utilizing a wide range of high-grade materials. YBC's expert teams of installers are known for their on-site craftsmanship, building each vehicular bridge one board at a time. A York vehicular bridge is an asset to any project and will last for generations.
For more information, please visit YBC's website at http://www.ybc.com.