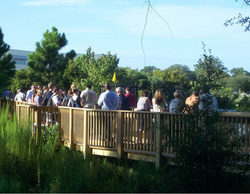 We knew that site was a true asset to both the college and the community
Fernandina Beach, FL (Vocus) October 6, 2010
After nearly 10 years of grant applications and extensive park planning, St. Petersburg College (SPC) has turned its dream of outdoor classroom learning to a reality. On August 31, 2010, SPC held its grand opening of Habitat Park, inviting students and residents of Seminole County to tour the newly constructed 40 acre park. Visitors experienced first-hand the benefits of the timber boardwalk with timber free span bridge system, the two scenic overlooks and the floating dock system built by Nature Bridges. "We knew that site was a true asset to both the college and the community," said Jim Oliver, Seminole's provost, "But I don't think anyone really knew just how alive that 40 acres was."
Because of the ecologically sensitive areas throughout Habitat Park, SPC wanted to ensure that the methods of construction used during the project had minimal impact on vegetation and the 249 different wildlife species living in the park. A.D. Morgan, the general contractor for the project, hired the environmentally friendly construction specialists, Nature Bridges, to construct the 8 foot by 600 foot timber boardwalk using their top down construction method.
The boardwalk, which includes a 36 foot timber free span bridge and two 16 foot by 16 foot observation decks, meanders through ecologically sensitive wetlands consisting of four ponds. Using Nature Bridges' top down construction method, ensures that no heavy equipment is used on the ground. Instead, top down construction uses lightweight hydraulic impact and material handling equipment that stays on top of the structure during construction, eliminating damage to vegetation and wildlife habitats. Nature Bridges' top down construction method means the only things that touch the ground are workmen, and the only things left behind are footprints and a new structure.
Nature Bridges, a distributor of Wahoo Docks, also installed an aluminum floating dock system manufactured by Wahoo at one of the pond locations. The system includes an aluminum gangway that leads to a 12 foot by 12 foot floating dock, allowing SPC science students to easily and safely gather water samples for learning purposes.
Located in Tallahassee, Florida, Nature Bridges is a leading bridge company specializing in top-down construction of pedestrian bridges and boardwalks through environmentally sensitive areas. Not only does the company focus on innovative materials and environmentally friendly construction, but Nature Bridges also offers a wide variety of development amenities including golf cart bridges, architecturally designed trellises, fencing, pavilions, decks, docks, timber retaining walls as well as DOT approved timber curbing, guardrails, and roadside walkways. For more information, contact Nature Bridges at 850-385-3234 or visit http://www.naturebridges.com.
###