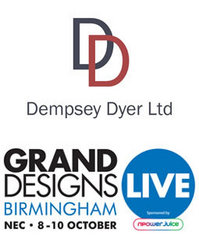 (PRWEB) October 21, 2010
Exhibiting their timber window products at Grand Designs Live is already proving to be a success for Dempsey Dyer Ltd, a UK manufacturer of timber window, door and conservatory solutions.
Held at the NEC in Birmingham earlier this month, the show was opened by Grand Designs presenter Kevin McCloud on the 8th October and ran for three days. Exhibiting from a modest stand of just 3m x 3m, Dempsey Dyer were able to showcase only a selection of their high performance timber window products. Three unique products were chosen including a flush casement window, a Stormproof window and a fully reversible window.
The most popular of the products on display was the Dempsey V flush casement timber window fitted with butt hinges and casement stays. Manufactured from European Oak, this hardwood window received a great deal of interest from both architects and homeowners. Also receiving a high level of interest was the Dempsey II Stormproof timber window. This product featured the innovative timber species Accoya and was finished in white by Dempsey Dyer's high quality finishing solution. The fully reversible timber window demonstrated a solution to the age old problem of cleaning the external pane of glass from inside the building proving Dempsey Dyer's commitment to designing and manufacturing innovative products.
Peter Dyer, sales and marketing director at Dempsey Dyer had the following to say about the timber window products on show: "we thought long and hard about the selection of products we wanted to showcase and decided to focus on products that would utilise the limited space we had most effectively. By displaying different product finishes with different ironmongery options, we were able to give the Grand Designs audience a good understanding of our product range on a very limited stage. We decided to focus on the sustainability and durability characteristics of our products and used the show as a platform to educate the attendees on the benefits of correct product design and manufacture. Our recently released '5 steps to Durability by Design' info sheet proved a great success in getting our message across".
A wide variety of enquiries were received throughout the exhibition from householders looking for replacement windows and doors to architects and building industry professionals seeking reliable manufacturers & suppliers of quality products that meet or exceed their and their clients expectations.
Dempsey Dyer plan to build on the success of Grand Designs Live by increasing their presence at exhibitions across the country throughout 2011. It is clear that buyer's from all sectors are focussed on ensuring their supply chain meets ever more stringent criteria and Dempsey Dyer are well placed to take advantage of a more educated buyer due to having full control of the design and manufacture process all performed from their 64,000 square foot manufacturing facility in West Yorkshire.
# # #