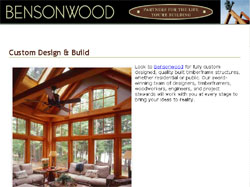 The Open Prototype Initiative overall and Open_1 here at Crotched Mountain are the first steps in improving homes for people of all abilities
Walpole, NH (PRWEB) November 7, 2006
The Open Prototype Initiative, a program of The Massachusetts Institute of Technology House_n Research Consortium (MIT House_n) and Bensonwood Homes of Walpole, NH is featured in the November issue of Popular Science, a national monthly magazine about current science and technology. The magazine article highlights the house built by Bensonwood for Crotched Mountain and discussed the innovative initiative with MIT aimed at providing highly customized, adaptable, sustainable, and affordable homes.
MIT House_n and Bensonwood are building a series of prototype homes and sharing information with the construction industry in an effort to improve the way homes are built in America. The initiative is an "open source" project, sharing information, while demonstrating high quality building techniques. The overarching goal of the initiative is to make homes more affordable, adaptable, energy and environmentally efficient, for builders and homeowners alike, while meeting the needs of homeowners through every stage of life.
Construction of the first home, Open_1 was completed this summer. Open_1 is a three-story, 28-by-46-foot house, serving as a transitional home for people recovering from brain injuries at Crotched Mountain in Greenfield, NH. The design of the house is based upon "Open Building" principles and utilized 3D computer technology, allowing for a layered building approach. Designing and building in layers allows the home to be highly adaptable to the changing needs of occupants, without the hassle, mess and costs of typical home projects and renovations. Open_1 also incorporated green building techniques, producing just over two garbage barrels of on-site waste and incorporates environmental monitoring systems.
"We are flattered by the recognition The Open Prototype Initiative received in the Popular Science article," said Tedd Benson president of Bensonwood Homes. "We hope that as the work of this project receives recognition, builders, designers and homeowners will all come to see that there's a better way to build homes, and they will join us in creating standards for higher quality, affordable and environmentally friendly homes."
Crotched Mountain is committed to providing high quality services and facilities for its clients. At the same time Bensonwood was looking for a site to build the first Open Prototype Initiative home, Crotched Mountain was looking toward the future and how it could provide an environmentally friendly and adaptable home that meets the changing needs of its clients.
"The Open Prototype Initiative overall and Open_1 here at Crotched Mountain are the first steps in improving homes for people of all abilities," said Don Shumway, president and CEO of Crotched Mountain. "When people look back years from now when the innovations that began with this project have become industry standards, they'll be able to look at the home we have here and they'll know that this home represents the beginning of a better way of building homes for everyone."
Bensonwood is also noted for its custom designed, quality built timberframe buildings both residential or public. An award-winning team of designers, timberframers, woodworkers, engineers, and project stewards will work closely with clients at every stage to bring their ideas to reality.
For more on the Open Prototype Initiative go to http://www.openprototype.com. For more information on Bensonwood's building principles for its timberframed houses, and to see plans for homes, barns and other buildings, visit http://www.bensonwood.com.
###