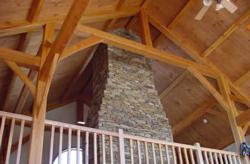 Our goal is always the same - build an unforgettable timber frame dream home for our customers. Helping our customers visualize their dream home is why we included 3D plan layouts in our new website - Ron Gabany, CEO of Atlantic Timberframes, Inc.
Mercer, PA (PRWEB) April 30, 2013
Atlantic Timberframes is a custom timber frame home builder that has always been focused on one thing -- building customers their timber frame dream homes. Recently the company launched a new website that includes timber frame home plans. The purpose of this portion of the site is to give prospective customers ideas on the size and layout of different homes. Being able to see a 3D rendering of the timber frame home with a sample floor plan gives a person a better idea of what might satisfy their needs.
For those customers that are visual by nature, a 3D view of a timber frame home enables them to quickly grasp the size and layout of a particular structure and determine if it is going to give them what they want in a home. For some, looking at a two dimension plan can be difficult to visualize the end product.
Timber frame construction was the primary method of building homes in 17th and 18th century America. Also referred to as post-and-beam construction, this form of carpentry involves using large, solid pieces of wood joined together by a method called mortis-and-tenon construction. This method uses wooden pegs, bents and braces to connect the posts and beams instead of nails. The Library of Congress provides a historical perspective on timber frame houses.
Atlantic Timberframes is following in the footsteps of those original timber frame builders in the 18th century by handcrafting the mortis-and-tenon joints. They have chosen hand-crafted quality over the approach of using computer automated machines.
If you are thinking about building your own timber frame home, please be sure to visit their website.
About Atlantic Timberframes, Inc.
Atlantic Timberframes is a true family business made in America. Located approximately one hour north of Pittsburgh, PA, they have been building unforgettable timber frame homes for over 20 years. The company's mission is to build the best timber frame homes possible for their customers, who they come to know and like during the design and build process.
web: http://www.TimberFrames.com
Contact: info(at)timberframes(dot)com