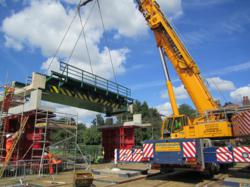 Our Emtek ground protection and access mats are perfect for all equipment as their load bearing capacity can be calculated in advance
(PRWEB UK) 3 December 2012
Construction work is considered to be one of the most hazardous industrial activities in the EU, according to the European Agency for Safety and Health at Work.
The rate of injury in the construction industry is higher than in other industries and the most frequent causes of death in the construction industry are falls from heights, followed by fatal accidents with vehicles, including overturning vehicles.
Ground protection and access solution expert, Timbermat Ltd is now offering for hire the only system on the market with tested and certified load calculations.
Emtek ground protection and access mats are specially engineered mats designed to support specified weights. They therefore offer extra safety measures for heavy equipment helping to prevent machines toppling over while operating on unstable or soft soil conditions.
Engineered to withstand the abuse of today's industrial construction sites, this new laminating technology is of a superior strength to standard mats, enabling higher load carrying capacities with certified load calculations, and will outperform any other mat system on the market.
'Our Emtek ground protection and access mats are perfect for all equipment as their load bearing capacity can be calculated in advance,' says Timbermat's Managing Director, John Roberts. 'This is a question we are frequently asked by contractors and engineers, and a problem we have been looking to solve for some time now.'
'The mats can be designed and built to customer specifications, and manufactured to carry weights far in excess of standard mats twice their thickness, which also means the cost of transporting Emtek mats can be up to 50% less,' says John.
Timbermat Ltd has qualified engineers available to offer expert advice and to assist in making load bearing calculations.
Editor's Notes
Since 1992, Timbermat has successfully grown into one of Great Britain's largest suppliers of temporary access solutions including temporary roadways and walkways, carrying probably the largest stock availability throughout the UK.
Its ground protection mats are properly tested and certified, meeting new EU regulations. Timbermat Ltd is FSC Certified and the company's importer is FSC (Forest Stewardship Council), PEFC (Programme for endorsement of Forest Certification) and SFI (Sustainable Forest Initiative) registered.