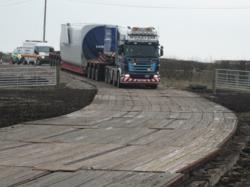 As we have been experiencing constant demand for ground protection mats in Scotland it made sense for us to have a depot there.
(PRWEB UK) 4 April 2013
Timbermat's additional new premises in Forth, Lanarkshire, means the company can now hold an extensive stock supply in Scotland, facilitating faster delivery times and keeping transportation costs to a minimum for both the company and its clients.
The expansion completes six months of major investment for the company. Since 1992, Timbermat Ltd has successfully grown into one of the largest suppliers of temporary access solutions including temporary roadways and walkways to the construction industry and utility companies across the UK, and prides itself on carrying one of the largest stock holdings in Great Britain to meet the needs of its clients efficiently and without undue delay.
"Unpredictable weather conditions, especially in the north of the country, can put unexpected demand on the supply of temporary roadways and access solutions. Having secured new premises in Forth, Lanarkshire, we are able to meet our client's requirements more effectively and efficiently," said Managing Director, John Roberts. "As we have been experiencing constant demand for ground protection mats in Scotland it made sense for us to have a depot there. Furthermore, the local sawmills and transportation contractors we use in the north of the country should also benefit from increased revenue, which can only be good news for them, the region and us."
In a bid to meet increasing 'health and safety' requirements Timbermat has made further substantial investment to increase its stock of the new Emtek 31F mats, which provide calculated load and deflection ratings; a requirement that has become more relevant as the UK has experienced unusual severe water logged conditions over the past year or so. And, in order to adhere to the new European Union Timber Regulations, Timbermat has also invested in FSC timber certification, and SFI/PEFC timber certification.
For more information contact Timbermat on 0161 442 3157 or visit the website http://www.timbermat.co.uk