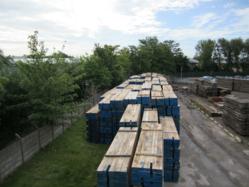 Responsibly sourcing our wood is a top priority for us at Timbermat Ltd
(PRWEB UK) 5 April 2013
The SFI programme recognises the importance of addressing illegal logging through certification, regulation and partnership initiatives and the new EUTR were introduced on March 3 2013, to help combat the placing of illegally produced wood products in to the EU market.
"Responsibly sourcing our wood is a top priority for us at Timbermat Ltd and our customers are particularly discerning, many wanting assurances that the timber products they buy or hire meet the highest standards of environmental responsibility. In today's market, which is increasingly driven by sustainability, we are pleased to be able to offer a wide range of sustainable timber products," said Timbermat's Managing Director, John Roberts.
Buyers who source products bearing the internationally recognised SFI label can be confident that measures have been taken to avoid illegal timber in the supply chain. While forest certification is not accepted as automatic proof of EUTR compliance, SFI certification can be utilized as a tool to meet EUTR requirements.
Since 1992, Timbermat has successfully grown into one of Great Britain's largest suppliers of temporary access solutions carrying probably the largest stock of certified mats.
Its wooden, ground-protection mats are properly tested and certified, and they meet the new EU regulations. Timbermat Ltd is FSC Certified and the company's importer is FSC (Forest Stewardship Council), PEFC (Programme for endorsement of Forest Certification) and SFI registered.
"Our extensive research means we only work with reputable companies who are environmentally-conscious - from the planting of a tree to dividing it up for timber", added Mr Roberts.
For more information contact Timbermat on 0-161-442-3157 or visit the website http://www.timbermat.co.uk