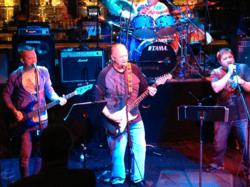 Wilmington, Ohio (PRWEB) May 22, 2013
When does wood rock? When it's Good Wood, the five-member employee band headed by Stu Kemper, CEO of TimberTech, a leading maker of alternative decking and railing. Good Wood is one of seven bands that will "battle" in the Fortune Magazine "Battle of the Corporate Bands" regional qualifier on Saturday, June 1, 2013, at Maxwell's in Hoboken NJ. Now in its 13th year, the competition is held in conjunction with the Rock & Roll Hall of Fame and Museum in Cleveland and will be judged by their panel of representatives.
One of three regional qualifiers taking place across the country, the competition starts at 12:30 p.m. and Good Wood gets last licks in the battle at 3:30 p.m. The address is 1039 Washington Street in Hoboken, across the Hudson River from Manhattan. Only two of the seven bands will be chosen to compete at the Rock and Roll Hall of Fame on Sept 28, 2013 to potentially become this year's Best Corporate Band in America. Other regional competitions will be held in Nashville in July and Los Angeles in August. There will be eight finalists; two from each region, with two wildcard bands chosen after the regionals are completed.
Started in 2010, Good Wood's Toby Bostwick, Director of Product Management at TimberTech, says the group of co-workers is out to have fun and raise a little money for charity when possible. They play under the cause "Rockin' for a Purpose" for various charities. In January, they performed at the Hard Rock Hotel's Body English Lounge in Las Vegas in conjunction with the International Builders Show to a crowd of about 250. Other members include Chuck Chura, Decking Product Manager, Bob Opst, Quality Manager and Greg Weyman, Advertising Manager.
Belting out songs from the Ramones to the Beastie Boys to LL Cool J, Good Wood's versatile style makes you want to dance, as they grab you with their powerful vocals and strong guitar riffs. To learn more about the event, go to Good Wood's Facebook page at https://www.facebook.com/GoodWoodRocks or for tickets in advance http://www.ticketfly.com/purchase/event/265487?utm_medium=bks.
About TimberTech
TimberTech® is one of the world's top producers of high-performance decking, railing, fencing and lighting solutions. With a passion for outdoor living and a global reputation for quality and innovation, TimberTech delivers a wide range of low-maintenance, wood-alternative products in an unmatched selection of colors and styles – all available through a network of more than 8,500 contractors and dealers worldwide. For more information, visit TimberTech.com or view product installation videos on the TimberTech YouTube channel. Stay up-to-date on TimberTech by following the company on Twitter (@timbertech_deck) or Facebook (/TimberTech).