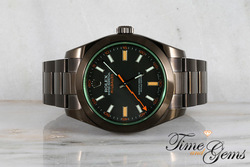 Since we use certified pre owned Rolex watches, we're able to offer the same stealth-black look at a much more reasonable price
Los Angeles, CA (PRWEB) December 15, 2009
Time and Gems, an independent pre-owned Rolex retailer, unveils five all-black Rolex models making them the first ever to offer all-black Rolex watches with a proprietary DLC coating at a price of almost 50% less than other luxury watch retailers.
"Other companies that sell black Rolex watches tend to use brand new watches and charge up to 3 times the cost of a new Rolex" says Jason Smith, president of Time and Gems. "Since we use certified pre-owned Rolex watches, we're able to offer the same stealth-black look at a much more reasonable price - often just a little more than the cost of a brand new model."
The all-black models currently available in limited quantities are the Rolex Submariner, Sea-Dweller, Explorer II, GMT-II and Milgauss. They also come with subtle customizations such as carbon fiber dials and bezel enhancements.
The Rolex watches are "blackened" using a proprietary process, that has been refined over many months, to apply a DLC (Diamond-Like-Carbon) military-grade coating to them. Besides transforming their look, this also improves their durability by making them more scratch-resistant.
Time and Gems also offers the option of customers sending in their own Rolex watches to have them "blackened" using the same proprietary DLC-coating process.
About Time and Gems
Time and Gems has been selling luxury watches, specifically Rolex, over the past 30 years and retailing to customers worldwide online for the past 9 years. They have over a thousand Rolex watches in stock, including new, used and vintage models making them the largest online retailer of Rolex watches in the USA. All watches are restored by Rolex-certified watchmakers to like-new condition and come with individual appraisals and a 1 year warranty. They can be found online at their website http://www.timeandgems.com or at their store located in the heart of Downtown, Los Angeles.
Time and Gems is an independent company not affiliated with any watch manufacturer or distributor. Rolex is a registered trademark of Rolex Watch U.S.A. and Rolex International. Rolex prohibits their authorized dealers from selling online and discounting from Rolex mandated retail prices.
For additional information please contact Jason Smith at 213-622-3679.
# # #