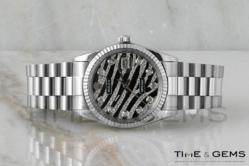 Los Angeles, California (PRWEB) May 27, 2013
Online watch retail giant Time and Gems has recently unveiled that it will be offering online shoppers up to $1000 in savings when they purchase selected Rolex watches through their site. This massive deal will be held in conjunction with the company's annual Memorial Day sale.
Being in the pre-owned watch industry for over 30 years, Time and Gems is well versed in its buyers' behaviors and have been faced with many pre and post purchase questions from its multitude of clients. Hence, Time and Gems has put together a simple step-by-step guide on what buyers should do when selecting and purchasing a pre-owned Rolex watch.
1. Determine the Watch's Practicality
The first thing the buyer should determine is whether the Rolex watch selected is practical and will suit his or her lifestyle. Many buyers tend to go for the Rolex watch with most affordable price tag but although budgetary constraints must be taken into account, the buyer also needs to determine if the watch will be practical for daily use. If the buyer is an avid diver, then choosing something from the Submariner range will be ideal whereas if the buyer is more of an indoor person, something from the President collection will be a perfect fit. The next thing the buyer needs to determine is whether they can afford the Rolex watch. It is no secret that to own a Rolex watch, one needs to fork out thousands of dollars. There is no need to go into debt just so one can fulfill the dream of owning a Rolex watch, hence Time and Gems strongly advises its customers to determine their budget before shopping for a Rolex watch. The upcoming Memorial Day Sale will give buyers with budgetary restraints the chance to buy a Rolex watch at a discounted price.
2. Determine the Watch's Authenticity
Although Time and Gems prides itself in only offering genuine Rolex watches to its clients, they strongly advise everyone to make it a habit of ensuring that what they buy is the real deal. Buyers should note that every Rolex watch has a serial number engraved on the back. This number can be cross referenced to the one in the Rolex database to determine the watch's authenticity. Additionally, Time and Gems offers all its Rolex watch buyers an authenticity certificate from the esteemed Horological Appraisal Group of America.
3. Determine the Watch's Warranty
When buying a pricey television or surround sound system, one must always ensure that it comes with a warranty. The same mentality must be applied when buying a pre-owned Rolex watch. Time and Gems is pleased to offer its clients a comprehensive 2-year warranty that covers all irregular wear and tear. Buyers are urged to contact Time and Gems to find out more.
With the myriad of Rolex watches up for sale during Time and Gems' Memorial Day promotion, buyers will be spoilt for choice when selecting the perfect Rolex watch. One of the watches looking for a new home is the Men's Rolex Stainless Steel Black Mother Of Pearl Roman Dial Fluted Bezel Oyster Band Datejust (Item #1349)
Price: $3,645
Today Only: $3,000
(Bank Wire Price: $2,700)
This leaves the buyer a total savings of $945
To find out more about what Time and Gems is offering its buyers during the Memorial Day sale on Rolex watches, Rolex Daytona, Rolex Day Date log on to http://www.timeandgems.com or call 1-888-658-5595 today.