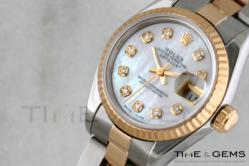 Los Angeles, California (PRWEB) June 20, 2013
Time and Gems is offering potential and seasoned clients useful information on several collections within the Rolex brand to aide them in their decision of choosing the perfect Rolex watch.
For over 30 years, Time and Gems (http://www.timeandgems.com) has been offering clients great deals on luxury timepieces. With an illustrious portfolio and thousands of satisfied customers under their belt, Time and Gems has what it takes to make the buyer happy and coming back for more. With ongoing deals on pre-owned genuine Rolex watches, online shoppers will be spoilt for choice when it comes to choosing the perfect Rolex watch for either themselves or someone special.
To tie in with Time and Gems' extended Memorial Day sale, the company would like to school buyers on several of the more popular Rolex watch collections. Not only will this help buyers when they select their Rolex watch, it will also give them some insight into the history of one of the most valuable and popular brands on the planet.
1. Rolex GMT Master
Launched in 1954, the Rolex GMT Master range was designed in collaboration with Pan Am Airways and issued to their pilots and navigators. This collection was and is perfect for high fliers as GMT is the time zone required for all aviation planning, schedules and other technicalities that have to do with flying. The Rolex GMT Master II was launched in the early 1980s and although the second edition looks identical to its predecessor, it contains an additional capability of an automatically adjustable quickset hour hand. This is perfect for frequent travelers as the local time can be easily and quickly be adjusted without disturbing the minutes and 24-hour GMT hand.
2. Rolex Yacht-Master
This sports watch was recently introduced to the public in 1992. The original version was made of 18K yellow gold and highly prized amongst collectors. The ladies' and mid-sized versions were launched two years later and was a hit amongst buyers who spent most of their time outdoors. Another favorite amongst Rolex watch collectors is the Rolex Yacht-Master in Rolesium, or the Platinum Yacht-Master, a Rolex Yacht-Master model that boasts a stainless steel and platinum construction.
3. Rolex Day Date
This certified and self-winding chronometer Rolex collection was launched in 1956. Known as the first watch to display the day and date, this collection is one of Rolex's only ranges that are offered solely in 18K yellow gold, white gold, rose gold and platinum. Perfect for buyers who are looking for a touch of ritz and class in their lives, the Rolex Day-Date is a very popular collection, and both used Rolex and brand new watches continue to do well on the market.
Online shoppers are urged to take advantage of Time and Gems' extended Memorial Day sale, a promotion that offers them up to $1000 off on selected Rolex watch models. Along with the information on the Rolex Day-Date, Yacht-Master and GMT Master collections presented by Time and Gems, buyers should have a clearer picture of what they are looking in a Rolex watch. One of the Rolex watches on sale is the Ladies' Rolex Yellow Gold White Dial Yacht-Master (Item #5071)
Price: $13,045 Today Only: $12,000 (Bank Wire Price: $11,400) This leaves the buyer a savings of $1,645
To find out more on the extended Memorial Day sale, or to learn more about the other Rolex watch collections such as Rolex Submariner, buyers are invited to call 1-888-658-5595 or log on to http://www.timeandgems.com.