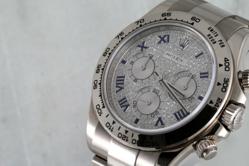 Los Angeles, California (PRWEB) May 16, 2013
Time and Gems has announced plans to further extend their annual Spring Flash Sale to cater to their buyers' high demand for Rolex watches.
With wholesale price tags on a vast variety of Rolex watches, buyers will be spoilt for choice with the latest Rolex watches from the Rolex Sea Dweller, Rolex President, Rolex Datejust, Rolex Yacht-master, Rolex Daytona, Rolex Submariner and other popular collections. Time and Gems (http://www.timeandgems.com) is pleased to inform buyers that all watches on display will feature a marked down price.
The extended Spring Flash Sale gives many buyers the chance to finally afford a highly sought after Rolex timepiece. Although the watches purchased through Time and Gems are pre-owned, each and every Rolex watch that goes through their channels are subjected to an intensive 6-hour overhaul by Time and Gems' professional in-house watchmakers. The process also encompasses an unwavering process of inspection, authentication, cleaning and polishing by a member of Time and Gems' in-house Rolex experts.
Buyers are coming in droves to take advantage of Time and Gems' extended Spring Flash Sale. However, many buyers are unsure about the process of picking a Rolex watch, especially when it is meant as a gift for a loved one. Time and Gems has graciously come up with some tips on what buyers need to look out for when selecting a Rolex watch, be it for themselves or as a gift.
1. Determine the user's daily routine
Although there some some who may not concur, the main factor that comes into play when choosing a Rolex watch is to determine what the wearer's lifestyle is like. It is probably unwise to purchase an over-the-top gold Rolex watch from the President range when the user needs the watch to go scuba diving or boating. A Rolex watch from the Daytona or Submariner range may be more appropriate for him or her. Similarly, choosing a Rolex watch from the Submariner or Yacht-master range for someone who attends board meetings all day long would be inappropriate. Time and Gems recommends the buyer look into the President and Datejust collections instead.
2. Determine the user's tastes
The reason why certain Rolex watches from the President and Datejust collections fare so well is because they are classy yet simple. Something to keep in mind when shopping for someone else is to remember that when in doubt, opt for the simpler and classier Rolex watch. This will ensure that the user will be able to match his or her wardrobe and preexisting accessories with the timepiece.
3. Determine the warranty and return policy
Buyers have to make sure that the warranty that comes with the Rolex watch is extensive. In addition to that, when buying a Rolex watch for someone else, it is imperative that the buyer learn more about the retailer's exchange and return policies just in case. When it comes to Time and Gems, all buyers will receive a comprehensive 2-year warranty with every purchase of a Rolex watch. Furthermore, buyers are offered a flexible 3-day return and 10-day exchange policy. Additionally if the buyer is not satisfied with the watch upon receipt of the shipment, he or she is welcome to open up a dialogue with Time and Gems to determine the next course of action.
At the Spring Flash Sale, buyers will be treated to numerous deals on a wide collection of timeless Rolex watches, one of which is the Men's Rolex Two-Tone Rose Gold Black Roman Dial 3Cts Channel Set Bezel Datejust (#174R).
Price: $9,145
Today Only: $8,500
(Bank Wire Price: $7,650)
This leaves the buyer a savings of $1,495
Should the buyer have any questions regarding other issues such as shipping and payment, or if the buyer wants to learn more about the Spring Flash Sale, contact Time and Gems' professional retailers through their website http://www.timeandgems.com or call 1-888-658-5595.