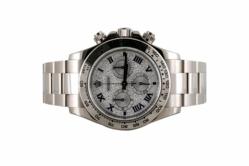 Los Angeles, California (PRWEB) June 03, 2013
Time and Gems, the world's largest online luxury watch retailer, is giving its clients multiple reason to invest in a pre owned Rolex watch, one of which is the company's 'Deal of the Day' promotion.
The professionals at Time and Gems (http://www.timeandgems.com) know how expensive it can be to purchase a Rolex watch. Be it a brand new or pre-used Rolex, the watch's price tag can easily go up to thousands of dollars. With that in mind, Time and Gems is offering the public many chances to save money when buying a pre-owned Rolex watch. Now, more than ever, it is an affordable investment to buy a luxury timepiece.
1. Deal of the Day
With Time and Gems' 'Deal of the Day' in place, online shoppers now get the chance to buy different models of used Rolex watches at an even bigger discount than usual. All buyers have to do is log on to Time and Gems' website on a daily basis and see if the 'Deal of the Day' is the watch of their dreams. If it is, then they are encouraged to buy it right away as the savings on each 'Deal of the Day' is unbeatable and should be taken advantage of.
2. Regular Sales
Time and Gems is renowned for holding great promotions and sales to benefit its clients. The most recent sale in conjunction with Memorial Day was such a huge success that Time and Gems decided to extend it. Other sales such as the Spring Flash Sale and Mother's Day Sale have also pulled in large crowds of first time and seasoned Rolex watch buyers.
3. Bank Wire Price
Many buyers may not be aware of this, but Time and Gems offers an additional form of savings at check out. Instead of paying via the conventional method of credit cards like Mastercard, Visa and American Express, buyers should opt to pay for their Rolex watch through bank transfer. Time and Gems offers 5% off on the final price if buyers choose to do so. At the end of the day, a 5% savings on a final bill of thousands of dollars is worth it and buyers are encouraged to take advantage of this.
4. Free Shipping
Unlike other online sites that require the buyer to foot the shipping bill, Time and Gems offers this service free of charge to all its clients, even those located overseas. Although Time and Gems engages the service of UPS Priority Shipping, buyers can request for FedEx, USPS or other courier companies to get the job done. Within three to five business days, local buyers will receive their pre-used Rolex watch right on their doorstep. With the inclusion of an appraisal certificate from the Horological Association Group along with an Estimated Retail Replacement Value for insurance purposes, buyers can rest assured that their pricey purchase will reach them without a hitch.
Today, Time and Gems' 'Deal of the Day' is the Men's Rolex Two-Tone Mother of Pearl Diamond Dial Smooth Bezel Oyster Band Datejust (Item #140).
Price: $5,145
Deal Of the Day: $4,888
(Bank Wire Price: $4,399)
This leaves the buyer a total savings of $746.
If this is not the buyer's watch of their dreams, they are welcome to check back in tomorrow to see if the 'Deal of the Day' is what they are looking for. Call Time and Gems at 1-888-658-5595 or log on to their website http://www.timeandgems.com for more information.