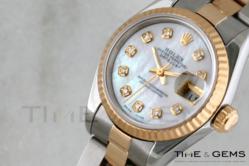 (PRWEB) April 17, 2013
Time and Gems offers its customers a mark of quality, reliability and high distinction selling Britain's most loved luxury watch brand for 2013, Rolex.
Not long ago, imitation Rolex watches were poorly made and were easy to distinguish from the genuine Rolex Watches. But unfortunately now days it's a different story, counterfeit Rolex watches are so well made that it's almost impossible to distinguish from the authentic Swiss masterpiece.
Numerous online auction houses and individual retailers offer copies that are almost impossible for individuals to tell apart from the real Rolex watches.
The most usual and believable Rolex 'enhancement' is the addition of a non­Rolex diamond bezel or dial or even dial and hands. Even though the glass and the band can appear to be totally genuine too yet may not be. If the watch is described as "Rolex style", "Italian made", "aftermarket", "non­genuine" or "enhanced", suspicions should be aroused. There are other descriptors too but these are dead giveaways.
A reliable watch retailer would never offer for sale a fake or assemble a watch from genuine and after market parts, purporting it to be a bona fide Rolex.
Time and Gems is certainly the definitive online store to source luxury watches from in terms of the authenticity of their products, their prices and value addition and service.
Times and Gems has been selling luxury watches like the Rolex President for over three decades now, and have been retailing these globally for 9 years now. They boast of a unique collection of hundreds of luxury watches that includes Rolex Datejust and Rolex Presidents. This makes them the biggest online retailer of Rolex watches in the USA. All their watches undergo restoration at the hands of Rolex certified watchmakers, who return them to mint condition. These are further backed up by individual appraisals and a comprehensive 2 year warranty. These watches can be purchased online on their website Time and Gems' or at their downtown Los Angles store.
"When buying a new, certified pre-owned, or vintages Rolex watch, such as Rolex Submariner, it's important to make it clear to dealer that you are interested in buying a 100% genuine, unaltered Rolex watch, and ask for authenticity guarantee."
Their on-site Rolex-certified Master watchmakers inspect Time and Gems watches for authenticity. In addition, each watch they ship comes with a full authentication and appraisal with unique serial number from the Horological Appraisal Group of America that verifies both it's authenticity and retail value. "We stand behind the authenticity of the timepiece for the life of the product, however in the event you find otherwise, we will gladly refund or exchange your timepiece for another." Adds Mike.
About Time and Gems
Time and Gems has been selling luxury watches, specifically Rolex Daytona watches, over the past 30 years and retailing to customers worldwide online for the past 9 years. Their collection of luxury watches including Rolex Datejust and Rolex Presidents is in the hundreds, making them the largest online retailer of Rolex watches in the USA. All watches are restored by Rolex certified watchmakers to Mint condition and come with individual appraisals and a 2-Year Warranty, including the DLC watches. They can be found online at their website Time and Gems.com or at their store located in the heart of Downtown, Los Angeles.
For more information about certified pre-owned luxury watches or to find out about Time and Gems prices and their Black Rolex Datejust, call or visit them online:
1-888-658-5595
http://www.timeandgems.com