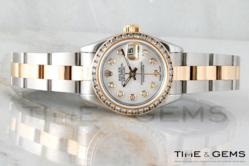 Los Angeles, California (PRWEB) May 03, 2013
Celebrate the dawn of a new season by taking advantage of Time and Gems' limited-time extended Spring Flash Sale. Now is as good a time as any to finally buy that once unattainable Rolex watch.
Owning a Rolex watch is no longer just for the likes of stock brokers and trust fund babies. With the help of online luxury watch retailer Time and Gems (http://www.timeandgems.com), buyers can now buy a used Rolex watch at a fraction of what it would cost at a brick-and-mortar store.
It is understandable that some buyers may have reservations about buying a used Rolex watch online. However, with over thirty years of experience in the industry, Time and Gems is a certified online retailer of luxury watches. If potential buyers are still thinking twice about Time and Gems' trustworthiness, here are some legitimate facts that may just appease this group of hesitant buyers.
1. Authenticity certification
Buyers will receive an authenticity and appraisal certificate from the well-known Horological Appraisal Group. Furthermore, buyers are guaranteed an extensive two-year warranty that comes with every purchase of a Rolex watch. Every watch sold at Time and Gems undergoes a thorough process of inspection, restoration, and check before it is delivered to the buyer, ensuring that the buyer only receives a top-notch product.
2. Genuine Rolex watches
With the steady trickle of shady imitation luxury products into the market, it is no wonder that some buyers may have qualms about buying luxury products. However, buyers are offered peace of mind when shopping at Time and Gems because all its luxury watches for sale are genuine. Here is a tip for buyers to keep in mind: When shopping for a Rolex watch, look out for the serial number engraved on the back of the watch. All genuine Rolex watches have a distinct serial number and users can check the watch's authenticity by running the serial number through the Rolex database.
3. Money back guarantee
Although uncommon amongst luxury product retailers, Time and Gems has, and always will put the buyer above its own needs. Buyers can rest assured that should they change their mind about the purchase, Time and Gems offers a risk-free three-day return and 10-day exchange policy. In addition to that, buyers should note that every watch is authenticated by Time and Gems' in-house team of professional watchmakers and in the rare event that the buyer finds something contrary to that claim, Time and Gems will guarantee a refund or exchange of the Rolex watch for another.
Buyers should also note that Time and Gems proudly purchases all its luxury timepieces from its international network of over 250 authorized dealers and wholesalers. This ensures that buyers will only walk away with the finest Rolex watches on the market. Not only that, Time and Gems offers buyers the most competitive price around so if buyers find a Rolex watch elsewhere at a lower rate, Time and Gems will gladly match or even beat the price.
With that said, here is a premium example of what Time and Gems is offering: Rolex Datejust
Men's Rolex Stainless Steel Black Mother Of Pearl Roman Dial Channel Set Bezel Oyster Band Datejust (Item #1352)
Price: $5,345
Today Only: $5,000
(Bank Wire Price: $4,750)
This gives the buyer a total savings of $595
To speak to a Time and Gems timepiece professional or to get more information on the Spring Flash Sale, contact Time and Gems' at 1-888-658-5595 or visit http://www.timeandgems.com.