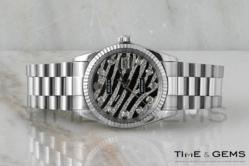 Los Angeles, California (PRWEB) May 14, 2013
Time and Gems' recent announcement stating that they are extending their Spring Flash Sale has roused buyers into reaching out and fulfilling their dreams of owning a Rolex watch. With warehouse price tags on all Rolex watches, buyers are now able to afford Rolex watches for themselves and their loved ones.
Even with the steady increasing demand for Rolex watches in conjunction with the Spring Flash Sale, Time and Gems reassures buyers that it has a vast collection of Rolex watches that will cater to everyone's wants and needs. Buyers are also reassured that there are plenty of Rolex watches to go around even with the ongoing sale.
Some online shoppers have voiced their concerns in regards to purchasing luxury timepieces online, but with over 30 years of watch retailing experience, Time and Gems is an experienced retailer who practices transparency with its clients. Here is a step-by-step guide detailing what happens every time a Rolex watch is sold through Time and Gems.
1. Determining the watch's origins
Time and Gems garners its Rolex watches through its extensive array of legitimate channels that comprise of jewelry wholesalers, collectors and authorized dealers. Only the finest Rolex watches are selected for resale through Time and Gems as quality control and an eye for detail are two of many factors that make Time and Gems the leader in its field.
2. Inspection before sale
Each watch gained through an external channel undergoes an intensive 6-hour overhaul by Time and Gems' professional in-house watchmakers. This is done to ensure that although pre-owned, the Rolex watch looks, feels and functions like brand new.
3. Authentication and appraisal
The long process of inspection, authentication, cleaning and polishing by a member of Time and Gems' professional watchmakers includes the possibility of some refurbishment to ensure that the watch functions at its best. Although there are cases when custom and aftermarket parts are used, buyers will be able to access all information through the item listing which will be provided by Time and Gems. It is important for buyers to understand that the use of these parts do not affect the authenticity of the Rolex's genuine core components. Each Rolex watch purchased through Time and Gems comes with and authentication and appraisal certificate from the Horological Appraisal Group, an independent organization. Additionally, buyers will also receive the Rolex watch's original manufacturer's serial numbers. Time and Gems stands behind a lifetime authenticity of the timepiece and should the buyer find otherwise, a refund or exchange is offered.
4. Resale online
Only once has the Rolex watch undergone the aforementioned inspection and appraisal process can it be deemed ready for sale through Time and Gems. As quality control is never compromised, Time and Gems has an excellent track record when it comes to customer satisfaction. Once the watch is put on sale online, buyers can purchase it easily with full peace of mind. A secure payment system as well as reliable shipping methods are used, allowing Time and Gems to live up to its high standard of providing quality timepieces to its vast clientele.
At the Spring Flash Sale, buyer are treated to top-quality Rolex watches at warehouse prices such as the Men's Rolex White Diamond Dial Fluted Bezel Day Date President (Item # 826)
Price: $10,045
Today Only: $9,500
(Bank Wire Price : $8,550)
This leaves the buyer a total savings of $1,495
For more Rolex for sale in conjunction with the extended Spring Flash Sale, call Time and Gems at 1-888-658-5595 or visit http://www.timeandgems.com.