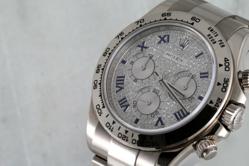 Los Angeles, California (PRWEB) June 19, 2013
Time and Gems' extension on their annual Memorial Day sale has given online shoppers another excuse to buy and own the Rolex watch of their dreams.
With selected Rolex watches being offered at price tags that boast up to $1000 off, buyers are inundating Time and Gems (http://www.timeandgems.com) to take advantage of the great deals offered to them.
As the world's leading luxury watch retailer, Time and Gems has been offering buyers pre owned Rolex timepieces at a bargain for the past thirty years. Along with their 'Deal of the Day' and consistent promotions such as the Memorial Day sale, buyers who are interested in buying a Rolex watch for either themselves or their loved ones have found Time and Gems to be the top online retailer to head to. Here are other top reasons why buyers enjoy shopping at Time and Gems.
1. Efficient Customer Service
"I faced some issues at checkout but the friendly staff at Time and Gems helped me sort everything out in a jiffy," said satisfied customer Leo Lee. Aside from solving clients' problems, the efficient representatives are also professionals when it comes to luxury timepieces. Buyers are urged to call Time and Gems to speak to a customer service representative should they face any problems. Be it a question about a particular Rolex watch's history or shipping methods, Time and Gems will be able to take care of it.
2. Authentic Timepieces
"The Rolex watch I purchased from them is 100% genuine, right down to all the parts, and I know this because I brought it to be independently appraised the day after I received it," said Maggie Stone, a customer who purchased a pre-owned Rolex Submariner watch for her husband. Clients who have any doubts in their mind about the authenticity of Time and Gems' Rolex watches can shelf them away as every Rolex watch purchased through Time and Gems comes with an authenticity certificate from the Horological Association Group, a well-respected organization that deals with luxury watch authentication. This association has no affiliation with Time and Gems, which guarantees their impartiality.
3. Comprehensive Warranty
"A year after I bought my pre-owned Rolex watch through Time and Gems, the clasp broke so I made use of my warranty and sent the watch back to their logistics center in Los Angeles to be fixed and it came back good as new," said Jacob Marshes. Time and Gems offers all its Rolex watch buyers a two-year warranty which allows them to send the watch back to be repaired and exchanged should any irregular wear and tear occur. On top of that, buyers are also welcome to send the watch back to be exchanged if it suddenly stops working. Although this rarely happens, especially when it comes to Rolex watches, buyers can have peace of mind should anything happen to their watch. As an additional form of service to their clients, Time and Gems also offers luxury watch servicing by their team of expert watchmakers, as well as trade-in services just in case clients wish to upgrade their watches.
With those reasons in mind, buyers are invited to garner more information on Time and Gems' extended Memorial Day sale if they are interested in owning a Rolex watch. One of the timepieces on sale is the Men's Rolex Two-Tone Zebra Diamond Dial Fluted Bezel Datejust (Item #1527)
Price: $5,045 Today Only: $4,500 (Bank Wire Price: $4,275) This leaves the buyer a total savings of $770
To see what else is on sale, log on to http://www.timeandgems.com or call 1-888-658-5595 to speak to a customer service representative.