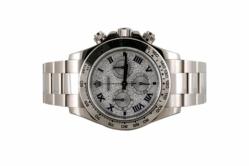 Los Angeles, California (PRWEB) June 26, 2013
Time and Gems recently announced that they will be holding a large sale on all Rolex watches to tie in with the highly anticipated 4th of July vacation.
Buyers will be treated to wholesale prices on one of the widest selection of Rolex watches available through one online site. With pre owned Rolex watch selections for both men and ladies, buyers will be spoilt for choice when it comes to picking and choosing their preferred luxury timepiece.
Time and Gems (http://www.timeandgems.com) has been in the industry for over three decades and know exactly what their clients are looking for. With the launch of the 4th of July sale, Time and Gems expects heavy online traffic from now until the big day. Interested buyers are encouraged to buy their Rolex watches ahead of time to avoid disappointment. To address the issue of high website traffic and to avoid any disruptions to the buyer's shopping experience, Time and Gems is offering up simple tricks that buyers can implement into their shopping habits when scouting for the perfect pre-used Rolex watch.
1. Determine the Rolex Collections Beforehand
Many buyers are unaware that the Rolex brand is made up of various collections. From the Deep Sea Dweller to the Datejust collection, Rolex has a specific collection to suit each buyer's specific interests. Buyers are encouraged to do a little research beforehand on what they want out of a Rolex watch. Although looks are important, there is more to that when it comes to a Rolex watch. Specifications such the watch's water resistance depth, day and date availability, bezel and other details play an important role in the selection process. For example, an avid scuba diver and an avid gamer may want to take home different Rolex watches. If buyers do not know where to start, they are welcome to contact one of Time and Gems' expert representatives for more information and detailed advice.
2. Determine the Rolex watch's Authenticity
Buyers need not worry about the Rolex watch's authenticity should they purchase it through Time and Gems. With a meticulous eye for detail and trustworthy standards to uphold, Time and Gems only offers its buyers authentic luxury timepieces. Each and every Rolex sold through Time and Gems comes with an authenticity certificate from the Horological Appraisal Group, which verifies the watch's authenticity and retail value.
3. Determine Shipping Methods
To avoid confusion at checkout, buyers should decide what form of shipment they prefer. Time and Gems insures and ships all packages using UPS Priority Shipping but in the event the buyer needs the Rolex watch to arrive on time as a gift for a special occasion, Time and Gems will be happy to offer overnight shipping at a small fee.
One of the pre-owned Rolex watches on sale in conjunction with the 4th of July is the Men's Rolex Two-Tone Gold & Stainless Steel Silver Color Dial Oyster Bracelet Yacht-Master (Item #1413)
Price: $11,045
Today Only: $10,000
This leaves the buyer a total savings of $1,545
For a complete list of Rolex watches on sale such as Rolex Submariner, Rolex Daytona, Rolex Datejust, Rolex Day Date, Rolex Air King or for more information, buyers are invited to call 1-888-658-5595 or log on to http://www.timeandgems.com.