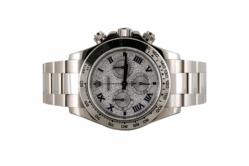 Los Angeles, California (PRWEB) June 14, 2013
Time and Gems' recent announcement regarding the extension of its Memorial Day Sale comes as a sign of jubilation to online shoppers as they can continue to enjoy up to $1000 off on Rolex watches.
With over three decades of experience offering up pre owned luxury timepieces to a discerning market, Time and Gems (http://www.timeandgems.com) is the foremost professional in giving its clients just what they are looking for, namely Rolex watches with affordable price tags.
Apart from good deals on pre-used Rolex watches, Time and Gems is also well-known amongst avid online timepiece shoppers as the retailer who offers the best perks. Here are some of the reasons why clients enjoy shopping at Time and Gems.
1. Fully Authenticated Rolex Watches
Time and Gems knows that some buyers may be skeptical about paying thousands of dollars for a timepiece they have never laid eyes on. Doubts such as whether the Rolex watch is authentic and whether it is fully certified are common questions asked by potential clients. To ease their worries, Time and Gems guarantees that every pre-owned Rolex watch purchased through them will come with an authentication certificate endorsed by the Horological Association Group, an esteemed body not affiliated with Time and Gems. This certificate guarantees buyers that the Rolex watch is original and that they need not worry about its authenticity. This certificate will also come in handy should buyers choose to sell or trade in their Rolex watch in the future.
2. Fully Refundable & Exchangeable Rolex Watches
It is not uncommon for a buyer to feel buyer's remorse after the purchase of such an expensive item. Common reasons are the watch not living up to the buyer's standards, noticeable defects, or simply that the person whom the buyer purchased the watch for is not happy with it. In any case, Time and Gems offers all its Rolex watch buyers a flexible three-day return and 10-day exchange policy. This gives the buyer peace of mind that should he or she face any problems with the watch, there is always the option of returning or exchanging it. Although Time and Gems guarantees that each watch is ready to use as soon as it is taken out of the box, there are numerous reasons why buyers wish to exchange or return the Rolex watch and Time and Gems is ready to negotiate a solution to benefit both parties.
3. Full Warranty Coverage
Time and Gems offers a comprehensive two-year warranty with every pre-owned Rolex watch that it sells. This covers irregular wear and tear and should the Rolex watch simply stop working, the buyer has the option of shipping it back to Time and Gems' logistics hub in Los Angeles to get the watch fixed or exchanged.
As mentioned, Time and Gems' extended Memorial Day Sale is giving shoppers the chance to save up $1000 on genuine Rolex watches, one of which is the Men's Rolex Two-Tone Blue Dial Blue Bezel Submariner (Item #1408), a watch perfect for those who love the outdoors.
Price: $8,445 Today Only: $8,000
(Bank Wire Price: $7,600) This leaves the buyer a total savings of $845
For a full list of the collection of Rolex watches on sale such as Rolex Submariner, Rolex Daytona, Rolex Datejust and Rolex Sea Sweller , log on to http://www.timeandgems.com or call 1-888-658-5595 today.