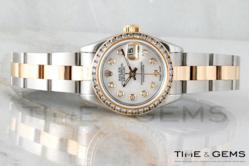 Los Angeles, California (PRWEB) June 17, 2013
Time and Gems has recently unveiled that it will be aiding buyers on how to choose the right pre owned Rolex watch for them.
With almost a dozen different collections of Rolex watches on the market, Time and Gems (http://www.timeandgems.com) understands that it can be a daunting experience for a first time buyer to choose the perfect Rolex watch. It can be difficult choosing a watch without seeing it in person and without being able to try it on. Hence, Time and Gems would like to share with shoppers how to choose the perfect pre-used Rolex watch online.
1. Verify The Watch's Authenticity
The first step in buying a pre-used Rolex watch online is to ensure that it is authentic. Although Time and Gems' clients can rest assured that all watches that go through their doors are genuine, it is still a good habit to instill into buyers to check that the watch is authentic beforehand. Buyers should note that every Rolex watch has a unique serial number engraved on the back. Buyers can cross reference the serial number to that recorded in the Rolex database. If the serial number tallies with that in the Rolex database and with the make and model of the watch, the Rolex is authentic. Additionally, Time and Gems guarantees clients that each Rolex watch purchased will come with an authenticity certificate from the esteemed Horological Association Group.
2. Verify The Buyer's Lifestyle
Whether the buyer is buying a Rolex watch for him or herself or for a loved one, the first thing to do is to verify the user's lifestyle. If the user is someone who spends a lot of time outdoors, there are several Rolex collections that will be a perfect fit, such as the Rolex Submariner, Rolex Yacht-Master, Rolex Daytona and Rolex Deep Sea Dweller. For those who spend more time indoors, Rolex watches from the Datejust, Oyster Perpetual and President ranges are good for them. Time and Gems urges buyers to choose a Rolex watch based on practicality and their budget, not just on what the watch looks like.
3. Verify the Watch's Warranty
When it comes to buying pre-owned luxury timepieces, it is always a good idea to ensure that the watch comes with a warranty. Time and Gems offers Rolex buyers a comprehensive two-year warranty that covers all irregular wear and tear. Another perk of Time and Gems' warranty is the fact that should the watch stop working, buyers can easily ship it back to Time and Gems for either an exchange or repair. Additionally, Time and Gems' terms and conditions state that all Rolex buyers are treated to a three-day return and 10-day exchange policy, giving buyers the flexibility to exchange the Rolex watch for another if they are dissatisfied with their purchase.
With the aforementioned tips in mind, buyers are encouraged to take advantage of Time and Gems' extended Memorial Day sale to choose the perfect pre-used Rolex watch of their dreams. One of the Rolex watches on sale is the Men's Rolex Champagne Diamond Dial Fluted Bezel Day Date Super President (Item # 1648).
Price: $13,045
Today Only: $12,000
(Bank Wire Price: $10,800)
This leaves the buyer a total savings of $2,245
For more information on the other Rolex watches on sale, check out Time and Gems' website at http://www.timeandgems.com or call 1-888-658-5595.