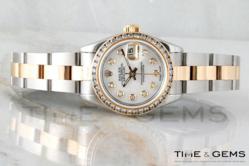 (PRWEB) May 07, 2013
Online watch retailer Time and Gems, one of the world's leading resellers of luxury watches, has announced that in conjunction with its annual Spring Sale, Rolex watches are now even more competitively priced than ever before.
A general search through Time and Gems' (http://www.timeandgems.com) extensive website allows buyers to come to the conclusion that Rolex watches are even more affordable than they once were. With price slashes of 10% and more, owning a ritzy Rolex is now possible for many who used to think otherwise.
With an extensive collection of Rolex watches for men and women from top ranges such as Rolex Datejust, Rolex Submariner, Rolex Daytona, Rolex President, Yacht-Master and many more, buyers are encouraged to take their time when deciding which Rolex watch will be most suited to his or her lifestyle. Here are some do's and don'ts buyers have to keep in mind when shopping for a Rolex, especially if it is the buyer's first time.
1. Do not impulse buy
Most buyers tend to purchase luxury items on a whim as they assume that should they put too much thought into it, they may end up walking away from it for fear of damaging their finances. Hence, it is important to think twice before making a purchase as expensive as a Rolex watch. The buyer needs to think about how they intend to pay for it and whether it will be a good inclusion into their daily routine. However, should buyers choose to buy a used Rolex through Time and Gems, they need not worry too much about impulse buying as Time and Gems offers a risk-free three-day return and 10-day exchange policy.
2. Don't assume that used is bad
Buyers need to realize that buying a used Rolex watch is just as good as one bought brand-new. There are many reasons why people choose to sell their Rolex watches, the first of which is spurred on by financial gain. Similar to property and shares, Rolex watches can be looked upon as an asset. The watch's former owner most likely needed to raise capital quickly and efficiently and a way to do that was through the sale of his or her Rolex watch. Others choose to sell their Rolex watches as a way of letting go of their past. Many people receive Rolex watches as gifts from loved ones and should the relationship break down, an example being between man and wife, the sale of valuable assets is not at all unusual. As a buyer, always check the watch's genuineness before buying it. A simple way to do so is to ensure that the Rolex watch selected has a serial number that corresponds to one in the extensive Rolex database. Buyers also need to ensure that all internal and external parts are authenticated. Rest assured that Time and Gems has a slew of professional watchmakers who vet through all Rolex watches that go on sale.
3. Do choose a Rolex watch that complements one's lifestyle
Buyers must school themselves on the various collections of Rolex watches available to make an informed decision. If the buyer is outdoorsy, a Rolex watch from the Yacht-Master or Datejust collection will complement his or her habits. If being indoors ties in with the buyers' job, then something from the President range is more suitable. The same should be taken into consideration when buying a watch for someone else as a gift. Time and Gems has round the clock professionals whose goal is to help the buyer select the perfect Rolex watch, so buyers should take advantage of this service.
One of the watches on sale at Time and Gems' Spring Sale is the Men's Rolex Stainless Steel New Style Blue Dial Airking(Item #5001).
Price: $5,045
Today Only: $4,500
(Bank Wire Price: $4,275)
This gives the buyer a total savings of $770
For more information on other pre owned Rolex watches currently on sale, please contact Time and Gems at 1-888-658-5595 or visit http://www.timeandgems.com