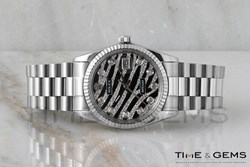 Los Angeles, CA (PRWEB) May 19, 2013
Time and Gems, the world's largest online retailer of luxury timepieces, has announced that their Spring Flash Sale will continue to go on for a limited-time period.
Buyers can now choose from a variety of Rolex watches for themselves and their loved ones. Popular collections found on Time and Gems (http://www.timeandgems.com) include Yacht-master, Datejust, President, Submariner and Daytona. Other ranges such as the Oyster Perpetual and No-Date Rolex watches are also available.
There are multiple reasons why Time and Gems is a popular site for online shoppers. According to Annie Simmons, "A friend recommended that I buy a pre-used Rolex watch through Time and Gems and I was not disappointed as I had a wonderful range of top-quality authentic watches to choose from."
Although Time and Gems is not an authorized Rolex watch retailer, they have an extensive international network of more than 250 authorized dealers and wholesalers from which they source all their Rolex watches. Once Time and Gems receives a watch from a connection, the watch will then undergo a comprehensive process of authentication and inspection. This is conducted by one of Time and Gems' in-house Rolex experts, many of whom have worked with Rolex in the past. Apart from the wide array of quality timepieces on sale, Time and Gems is also well known for its other traits.
1. Full Service & Warranty
As a full service luxury watch retailer, Time and Gems' team of watchmaking experts are able to repair Rolex watches. All the watch owner has to do is to contact Time and Gems and shipping arrangements can be made within the day. As for online shoppers who choose to purchase their Rolex watch through Time and Gems, they will receive an extensive 2-year warranty. All Rolex watches sold though Time and Gems are ready to be used as soon as it is removed from the box.
2. Free Priority Shipping
All Rolex watches purchased through Time and Gems' website include free domestic and international UPS Priority shipping. Because of the high value of the shipment, Time and Gems will secure full insurance for each timepiece from transit to delivery. This prevents any theft or damage to the watch. Buyers should note that valid identification must be presented upon receipt of the shipment. Time and Gems is also happy to accommodate those who wish to receive their shipment at a later or earlier date.
3. Risk-Free Exchange Policy
Time and Gems offers a flexible 3-day return and 10-day exchange policy to buyers who purchase Rolex watches through their site. Although this rarely happens, buyers may be dissatisfied with the Rolex watch when they receive it. Reasons such as the watch not looking like what it did online, or if there are discrepancies with the watch they received, are two of the most common reasons why buyers choose to exercise their rights to utilize the return and exchange policy. Buyers are advised to read the terms and conditions before contacting Time and Gems in regards to this.
Currently available during the Spring Flash Sale is the Men's Rolex Two-Tone Champagne Diamond Dial Fluted Bezel Datejust (Item #102)
Price: $4,145
(Bank Wire Price : $3,730)
To find out what else the Spring Flash Sale holds in store for shoppers, contact Time and Gems at 1-888-658-5595 or visit their website at http://www.timeandgems.com.