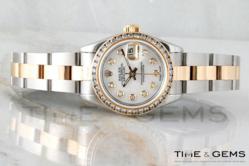 Los Angeles, California (PRWEB) May 20, 2013
Time and Gems, the world's foremost online luxury watch retailer, has unveiled that its current collection of Rolex watches is now on sale at the lowest rate it has ever offered.
Time and Gems (http://www.timeandgems.com) has made it a priority to offer its clients authentic pre-owned Rolex watches at warehouse prices. Although some may not believe that to be possible, Time and Gems is able to offer low rates on all its luxury timepieces because it sources its products from an extensive global network of jewelry wholesalers, collectors, and authorized dealers without the engagement of an intermediary. This allows Time and Gems to maintain and offer a low resale value to its clients. In other words, what Time and Gems manages to save, it passes the savings on to its clients.
Time and Gems' ability to offer competitive rates on its Rolex watches have developed into more savings for its clients. Some of the well-known and eagerly awaited promotions are listed below.
1. Deal of the Day
Time and Gems maintains a daily promotion known as 'Deal of the Day'. Every day, Time and Gems offers its clients a different Rolex watch for sale at an unbelievable price tag. Buyers need not worry about purchasing an obscure Rolex watch as Time and Gems ensures that all watches that are featured on 'Deal of the Day' is of the utmost quality and maintains an up-to-date style. Rolex watches from popular ranges such as the Datejust, President, Submariner, Oyster-Perpetual and many others are placed on sale to the delight of buyers all over the globe.
2. Seasonal Sales
Time and Gems values its customers and rewards them by organizing seasonal sales. Every time a special occasion looms close, Time and Gems will announce a sale on all its Rolex watches. The latest promotion was held in conjunction with Mother's Day and was deemed a great success by buyers and Time and Gems alike. Buyers who did not get the chance to purchase anything for Mother's Day can now take advantage of the ongoing annual Spring Flash Sale, a sale that Time and Gems recently decided to extend in order to keep up with its buyers' demands for genuine pre-owned Rolex watches.
3. Bank Wire Price
To offer its clients even further savings, Time and Gems also implements what is known as a 'Bank Wire Price'. This enables buyers to save 5% of their total bill should they opt to pay via direct deposit or bank wire. Although buyers can also pay using their Visa, Mastercard, Discover or American Express card, a savings of 5% at checkout is unbeatable and buyers should take advantage of it. Upon payment, a Time and Gems staff member will ship the Rolex watch directly to the buyer via complimentary UPS Priority Shipping. Buyers will receive their purchase within only three to seven business days.
In line with the aforementioned 'Deal of the Day', buyers who wish to buy a Rolex watch today can treat themselves to the Ladies' Rolex Two-Tone Silver Diamond Dial Fluted Bezel Datejust (Item # 540)
Price: $3,845
Deal Of the Day: $3,653
(Bank Wire Price: $3,288)
This leaves the buyer a total savings of $557.
For more information on Time and Gems' seasonal sale, bank wire pricing, and Deal of the Day on Rolex Submariner, Rolex Daytona, Rolex Datejust and Rolex Day Date, log on to http://www.timeandgems.com or call 1-888-658-5595 to speak to a timepiece professional.