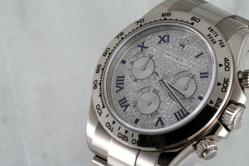 Los Angeles, California (PRWEB) May 29, 2013
Time and Gems has recently announced to the public that they will be extending their annual day Memorial Day sale to keep up with the high demand for Rolex watches from the public.
With up to $1000 off on selected Rolex models, it comes as no surprise that Time and Gems (http://www.timeandgems.com) is inundated with old and new buyers alike looking to make a purchase or two. With the world's largest collection of luxury watches for sale, Time and Gems has been in the industry for over 30 years and has catapulted itself to be the number one pre-owned Rolex watch retailer in the world.
Aside from the fact that it holds frequent sales and promotions to benefit its clients, Time and Gems is also known as the best used Rolex watch retailer for several reasons.
1. Authentic Rolex Watches
Many people have qualms about buying luxury timepieces online, especially pre-owned ones for fear of getting ripped off. However, buyers need not fear when it comes to doing business with Time and Gems because the company adheres to a strict code of honesty and reliability. It is understandable that a moral code may not be enough to ease some people's fears, so every Rolex watch purchased through Time and Gems comes with an authenticity certificate from an esteemed independent organization known as the Horological Appraisal Group of America. This certificate proves that the Rolex watch the buyer purchased is 100% original. In addition to that, one of Time and Gems' watchmaking professionals ensures that every Rolex watch sold undergoes a strict six-hour long process of inspection, authentication and restoration.
2. Myriad of Rolex Watches
Buyers have the luxury of going through a myriad of Rolex collections to find the perfect watch for them. With Rolex watches from famous collections such as Rolex Submariner, Day Date, Daytona, Datejust, Sea Dweller and Rolex Air King, buyers are spoilt for choice when it comes to choosing the watch of their dreams. With Rolex watches for both him and her up for grabs, buyers are tempted to pick up a Rolex not just for themselves, but for their loved ones too. First-time buyers are advised to speak to one of Time and Gems' timepiece professionals to get detailed information and advice on Rolex watches that they have narrowed down.
3. Professional Service
As the number one online used watch retailer in the world, Time and Gems offers all its clients impeccable service, one of which is a comprehensive two-year warranty that covers all irregular wear and tear. Additionally, if the watch simply stops working for any reason whatsoever, Time and Gems invites the owner to ship it back to their logistics facility in Los Angeles for a repair or exchange at zero cost to the owner.
4. Free Shipping
Every time someone buys a Rolex watch at Time and Gems, free shipping will be provided at the convenience of the buyer. Although Time and Gems usually engages the services of UPS Priority Shipping, buyers are welcome to choose the shipping company of their choice such as FedEx, USPS and so on. Should the buyer have a special event coming up like a loved one's birthday or anniversary, Time and Gems will be happy to sync the shipping schedule to meet the buyer's plans.
During Time and Gems' Memorial Day sale, buyers will be treated to hundreds of Rolex watches on sale, one of which is the Men's Rolex Two-Tone Rose Gold Black Mother of Pearl Roman Dial Channel Set Bezel Oyster Band Datejust (Item #144R)
Price: $6,245
Today Only: $5,500
(Bank Wire Price: $4,950)
This leaves the buyer a savings of $1,295
To check out Rolex watches are on sale such as Rolex Submariner, Rolex Daytona, Rolex Datejust, Rolex Day Date on other used Rolex watches, log on to http://www.timeandgems.com or call 1-888-658-5595 today.