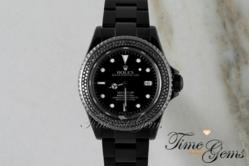 Los Angeles, California (PRWEB) May 31, 2013
Online luxury watch retailer Time and Gems has recently announced that it will be extending its annual Memorial Day sale for an indefinite amount of time to cope with demands from online shoppers.
A spokesperson from Time and Gems announced that, "It is unfair to turn away clients who wish to purchase a Rolex watch at affordable rates, hence Time and Gems will be extending its annual Memorial Day sale until the immediate demand for pre-owned Rolex watches lessens."
Although Time and Gems mentioned that the Memorial Day sale will go on indefinitely, it foresees that it will come to an end in the near future to ensure that buyers will come back and make further purchases during its next sale. Hence, online shoppers who wish to purchase a Rolex watch should do so quickly before the abrupt end of the extended sale. Along with affordable rates on an extensive collection of pre-used Rolex watches, Time and Gems is offering its buyers additional perks unique to the company.
1. Free Shipping
Most online businesses charge customers a fee whenever shipping is concerned. Time and Gems on the other hand, chooses to offer its buyers an added incentive by utilizing UPS Priority Shipping at no extra cost. Clients can expect their Rolex watches to reach their shipping address safe and sounds within three to five business days.
2. Bank Wire Price
Another perk of shopping online at Time and Gems is the additional discount when paying for their purchase. Buyers are offered 5% off their entire bill should they choose to wire the money to Time and Gems as opposed to using their credit cards. Saving 5% on thousands of dollars is a sizable amount and buyers are urged to take advantage of this offer.
3. Authenticity Guaranteed
Buyers no longer have to rely on good faith to ensure that their Rolex watch is genuine. All Rolex watches that are sold on Time and Gems' website undergo an intensive appraisal, evaluation and restoration process conducted by an in-house luxury watchmaking expert. On top of that, Time and Gems offers all Rolex watch buyers an authenticity certificate from a top independent appraisal body; the Horological Appraisal Group of America.
4. Extensive Warranty
All Rolex watch buyers who make their purchase through Time and Gems are extended a comprehensive two-year warranty. In addition to repairing irregular wear and tear, buyers are able to send in their Rolex watch for a repair or exchange should the watch stop working for whatever reason. Although this is a rare occurrence, it is a big plus that buyers have the option of doing so should anything happen to their Rolex watch.
With the good news of an extended Memorial Day sale underway, buyers are encouraged to take advantage of it and purchase their dream Rolex watch. If buyers are hoping to pick up something for a loved one but have no idea where to start, Time and Gems encourages buyers to get in touch with a non-commissioned Expert Jeweler to make an informed decision.
One of the many top-notch watches currently on sale is the Men's Rolex Stainless Steel Black Roman Dial 3cts Channel Set Bezel President Style Band Datejust (Item #1501)
Price: $8,345
Today Only: $7,500
(Bank Wire Price: $6,750)
This leaves the buyer a total savings of $1,595
Call 1-888-658-5595 or check out Time and Gems' website at http://www.timeandgems.com for more information on different models of Rolex Watches such as Rolex Submariner, Rolex Daytona, Rolex Datejust, Rolex Day Date, Rolex Air King, Rolex See Dweller.