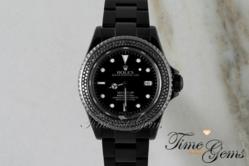 Los Angeles, California (PRWEB) May 30, 2013
Time and Gems, the world's most popular used luxury timepiece retailer such as used Rolex, unveils that this year's annual Memorial Day sale has successfully managed to draw in the highest number of first time Rolex customers ever.
Time and Gems (http://www.timeandgems.com) credits its success to its low price tags and exceptional service. The influx of first time buyers to its site is a good sign for Time and Gems as it is a clear indication that buyers are finding exactly what they are looking for. With experience in the pre owned Rolex watch industry for over three decades, Time and Gems undoubtedly knows what it takes to make its clients happy. Feedback from satisfied customers, both old and new, have listed the following reasons for their patronage.
1. Large Rolex Collection
One of Time and Gems' main pulls is the fact that it has an extensive collection of Rolex watches up for grabs. From the watches in the Rolex Submariner collection to those in the Rolex Daytona range, users have thousands of watches from more than half a dozen collections to choose from. Popular collections include the Rolex Datejust and President range because watches from these collections are known for their versatility and practicality. Niche collections such as the Rolex Deep Sea Dweller also boasts a large fan base as buyers love its deep sea water resistance features. Watches from the Rolex Day Date and Rolex Air King are also immensely popular.
2. Certificate of Guarantee
Another main reason for Time and Gems' popularity is the fact that all its Rolex watches come with an authenticity certificate from the Horological Appraisal Group of America. Time and Gems knows that its buyers want peace of mind when buying a luxury timepiece from an online retailer and goes to every extent to ensure that they are satisfied with their purchase. A three-day return and 10-day exchange policy is also put into place to ensure that buyers are given the flexibility of changing their minds after they make a purchase. The cherry on top of the cake is the extensive two-year warranty offered along with every purchase of a Rolex watch that covers all irregular wear and tear. Buyers can also rest assured that should their watch stop working for any reason at all, they can ship it back to Time and Gems to get it repaired or exchanged.
3. Ongoing Promotions
Buyers love a good deal and Time and Gems knows that buying a Rolex watch can be very costly. Hence, giving the public the chance to own a Rolex watch at a fraction of its usual cost is a reason why the company is able to pull in so many first time buyers. For example, the annual Memorial Day sale offered buyers up to $1000 off on selected models, giving many the opportunity to finally afford their dream watch.
4. Bank Wire Price
At checkout, buyers can opt to pay with their credit card or save an additional 5% by conducting a bank wire transfer. Considering the price tag of authentic Rolex watches, many buyers are grateful for the opportunity to save even more as 5% off one's total bill comes up to a hefty saving.
Buyers can check out Time and Gems' website for great deals on Rolex watches, one of which is the Men's Rolex Two-Tone Black Mother Of Pearl Diamond Dial 3Cts Channel Set Bezel Datejust (Item #1441).
Price: $9,145
Today Only: $8,500
(Bank Wire Price: $7,650)
This leaves the buyer a total savings of $1,495
To check out the entire range of Rolex watch options, log on to http://www.timeandgems.com or call 1-888-658-5595.