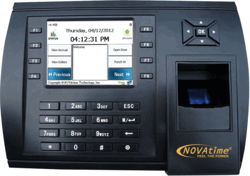 The timesheets and reports from NOVAtime are very helpful... the system is very user-friendly.
(PRWEB) January 22, 2013
Diamond Bar, Calif. (PRWEB) January 15, 2013 - Today NOVAtime Technology, Inc. (http://www.novatime.com), a forward-thinking Workforce Management solution development company, announced that the City of Whitehouse in Texas automates its timekeeping processes with NOVAtime 4000 Software as a Service (SaaS) solution and State-of-the-Art NT450 "push technology" time clocks.
Whitehouse is a growing city located in Smith County, Texas, with a population of over 7,000 people. In 2009, the City of Whitehouse decided to switch its manual timekeeping processes to an automated system, and selected NOVAtime and the NOVAtime 1000 system. Earlier this year, the City migrated to the NOVAtime 4000 system and continues to automate the time of their employees across 3 locations.
Jennifer Lusk, the Utility Clerk Supervisor for the City of Whitehouse, explains that the City chose NOVAtime as its workforce management solutions provider because some departments had manual punch clocks and the City wanted to upgrade all departments to a state-of-the-art NT450 time clock. The NOVAtime biometric time clocks utilized by the City scans an employee's fingerprint for punching in and out, which is not only quick and efficient, but also helps to prevent any possible issues with buddy-punching.
The NOVAtime 4000 system is a fully-integrated system that is complete with time and attendance, scheduling, accrual, and leave features. When asked what the most useful feature of the system is, Ms. Lusk states that the timesheets and reports from NOVAtime are very helpful. The system's reporting tool comes standard with over 150 pre-installed report templates that can be customized, saved, and published to meet the City's needs. The timesheets, too, are easy to manage. "If an employee forgets to clock in or out," Ms. Lusk adds, "we can manually enter the missed time punches."
An organization's transition over to the NOVAtime's time and attendance / workforce management system is a big step, and therefore NOVAtime has developed a SurePath Implementation Methodology that ensures implementations are smooth, on time, and within budget. Through refined procedures, rigorous testing, and ample previous experience, NOVAtime has created a process that accommodates all implementations, regardless of the complexity or size of the project. NOVAtime prides itself in its ability to deliver superb customer service, a driving force in its implementations. NOVAtime's Professional Services team is attentive to each and every customer, and Ms. Lusk states that the service personnel are very friendly.
Through its focus on customer service and the innovative and intuitive system itself, NOVAtime has built long-lasting relationships with organizations in all industries, including healthcare, retail, and manufacturing, as well as government entities such as the City of Whitehouse. NOVAtime 4000 is a complete, effective, and easy to use solution. Ms. Lusk agrees that the system is very user-friendly, and would recommend the product to those searching for a time and attendance solution.
About NOVAtime
Established in 1999, NOVAtime has helped over 10,000 organizations around the world benefit from their use of NOVAtime Workforce Management solutions. With corporate offices located in Diamond Bar, California, NOVAtime utilizes the latest advancements in technology for its complete suite of Workforce Management solutions. This has enabled NOVAtime to serve companies with complex data collection requirements, including badge/biometric time clocks, browser-based data collection, telephone features, PDA scanners, etc. NOVAtime offers solutions for scheduling, labor allocation, job costing, work-order management, and cost center allocation. These solutions can be delivered through two supported software platforms: a licensed client-server application with web capabilities, and subscription-based software as a service application with a multi-tiered, multi-tenant infrastructure.
For more information about NOVAtime, and to learn about how we have helped other companies control costs and remain compliant with today's challenging business requirements, please visit http://www.novatime.com or call 877.486.6682.