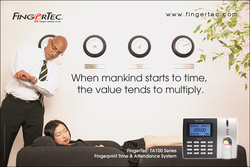 Sydney, NSW (PRWEB) July 24, 2009
Technology is putting an end to the cat and mouse game of sneaking in late to work - the mouse is caught at the door, in the back room, or on pay day! We rounded up a group of intuitive employees and discussed some favorite ways of sneaking time from the boss. Time clocks consultant David Azzopardi from the Bundy Specialists demonstrated how modern time and attendance terminals pretty much ruled out everyone's favorite game - free advice every employer needs to hear.
1. Buddy Punching Eliminated
Slept in? Stuck in traffic? Clocking on with a mechanical time clock where you grab your clock card from the rack and punch or time stamp it made it pretty easy to satisfy payroll - all you needed was a "buddy" to punch your card for you.
The consultant: "This exploit still exists even if you use a modern proximity tag or swipe card system, however since no employees can give their finger to a buddy to clock on for them, fingerprint time clocks mean no more buddy punching. And contrary to popular belief, fingerprint recognition systems are not easily fooled. For example, Fingertec time clocks offer radio frequency scanners which don't look at the fingerprint image, but measure electricity. They simply won't accept anything but the original finger."
2. Area Access Controlled
OK so you clock on, but instead of going to your work station you hang out with your mate upstairs in R&D. What's to stop that from happening?
David Azzopardi: "Whichever recognition medium is used (fingerprint, proximity tag or pin code), access control employee time clocks mean the door only opens for you if you're authorised, or they could mean you need to be where you should be to get paid. Via the data download from the company's network of access points, everything is easily reconcilable before payroll is calculated."
3. Your Access Is Monitored
So that little spot you found where no one seems to look - it's just so comfortable for a quick power nap after lunch right? Nobody's watching, right?
"Well no, they're not. Surveillance cameras are expensive to install and require having someone to watch each one in every nook and cranny. However, time and attendance software makes it easy for employers to see where employees are spending their time... and they know it doesn't take 45 minutes to get something from the cleaning storeroom! Companies and especially large corporations see the value in replacing keys with biometric access, not just for time theft but security, don't be surprised if next time you go to open the storeroom there's a fingerprint terminal on it."
Employers looking to price time and attendance systems can determine which time clocks suit their needs with an online tool.
Affordable employee time recorders for businesses start with systems for 10 employees and upwards, and can be easily networked (even wireless-ly) with each other and integrated with existing payroll software.
Instructional videos and software screen shots are at the Bundy Clock Specialists.
###