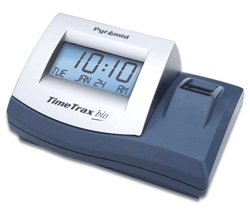 Our new Ethernet-ready product line further demonstrates our commitment to providing big business technology on a small business budget
Rochester, MN (PRWEB) June 20, 2008
BuyOnlineNow.com - Pyramid time clocks have long been one of the top selling employee time attendance sytems on the market. They have now incorporated Ethernet technology to make for easier, faster and more accurate data transferring.
Until fairly recently, employee time management consisted of using a singular time clock station, and paper time cards to punch in and out. Many hours would then be spent by managers counting up and adding employee hours, not to mention determining overtime and holiday pay. Eventually, most employee attendance systems were converted to digital, by clocking in using credit card style swipe cards, or entering id numbers into a computer or keypad. Most time clocks still could only be used singularly, and counting hours could still be a long and tedious process.
By adding Ethernet connections to their already popular time clocks, Pyramid Technologies had made it easy to not only transfer employee data from one time clock to another, which allows employers to set up multiple time stations, but also to transfer data to a computer where it is compatible with most of the major time attendance system software on the market. This includes, PAYCHEX, Quickbooks and ADP, as well as many others.
Another giant advantage Ethernet time clocks have over USB connections is that the length of the cable has no impact on the communication between machines. Also, each time clock can be used with an unlimited amount of machines. This means, you can have time clocks at every entrance and exit to your building, and there will be no errors or corrupted data. "Our new Ethernet-ready product line further demonstrates our commitment to providing big business technology on a small business budget," stated Manny DaSilva, Vice President, Sales and Marketing at Pyramid. "Being Ethernet-ready allows for multi-terminal capabilities that will grow as your business grows. Simply hook any Pyramid TimeTrax Ethernet unit up to any networked Ethernet jack, and you're on your way."
The Pyramid Ethernet time clocks are available in the traditional swipe card styles, as well as the biometric version. Biometric time clocks use fingerprinting to determine the employee who is clocking in. This is a great way to eliminate costly "buddy punching." Pyramid Ethernet time clocks can be purchased through office supply retailer, BuyOnlineNow, who ship the time clocks directly from Pyramid.
About Pyramid:
For nearly 40 years, Pyramid Technologies has provided cost-conscious time keeping solutions for businesses of all sizes and from a variety of industries. Headquartered in Meriden, Connecticut, Pyramid manufactures products that range from simple, inexpensive mechanical time recorders to sophisticated time and attendance solutions and GPS synchronized wireless clock systems. Pyramid carries a number of accessories to support its payroll time recorders, including card racks, badge racks, and time cards. In addition, Pyramid's clock line ranges from simple and inexpensive commercial wall clocks to networked digital system clocks. To learn more about the Pyramid TimeTrax Ethernet-ready products, please visit http://www.ptitime.com.
###