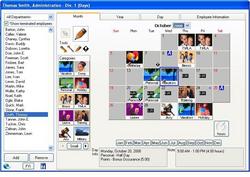 Brick and mortar business is no longer the rule. The virtual office, multi location and on-site work demands require flexible solutions that can operate on different platforms without sacrificing management controls
Hardy, VA (PRWEB) November 11, 2008
Founded in 1985 by Software Designer Philip Muller, Software Techniques Inc. (STI) has grown today as a leader in both Human Resource Management Systems as well as the provider of superior systems for Police Evidence and Property Management. Presently with over 50,000 loyal and satisfied customers worldwide, STI offers products that are scaled for the small business to the largest corporations.
STI's unique product mix in two separate markets derives from early custom contracts for large complex and demanding clients. STI's success derives from the synergy of multi market requirements for excellence and dependability.
STI's Flagship HR business solutions are HR Employee Management, SoftTIME Attendance Control and TimeKron. Each of these packages offers complete systems for all aspects and functions of Human Resource Management.
HR Employee Management software is designed to provide HR personnel with cutting edge features to make their workload much easier. Wizards implement fast and accurate maintenance of new and existing employees. HR Employee Management offers complete and accurate records of employee training, certification as well as work history and performance evaluations. This business solution is proactive and issues reminders of review dates, renewals of work permits, licenses and certificates. HR also allows checking for missing information which can be critical.
SoftTime Attendance Control is built for complete employee attendance tracking. SoftTIME allows you to track employee absences with the simple click of a mouse. It automates accrual, allowance, and carry-over calculations and offers a multitude of features that incorporate over 30 useful reports. SoftTIME is designed to automate routine tasks and minimize human errors, making your business more efficient and profitable.
TimeKron is a State of the Art employee time management system that offers a variety of time entry methods including email automated time sheet submission and approval, virtual pc punching, auto punching, or live in/out board punching. TimeKron can also be used with the latest biometric and RFID timekeeping hardware to accurately monitor employee time worked as well as project and job progress. The flexibility of TimeKron allows it to function in any environment, even in offsite field locations.
ACE (Automated Control of Evidence) and ACE Express Software are the backbone of Large Metropolitan Police Departments as well as many local Sheriff's Offices Evidence and Property Systems. STI also provides the Public Safety Market with software to manage their vehicle Fleet as well as Crime Scene software to provide the necessary "Chain of Custody" documentation for proper criminal prosecution and department accreditation. ACE and the ACE family of software solutions meet and exceed the management controls and restrictions today's demanding legal environment requires.
STI has been very successful to date by standing on its products' quality and value. STI offers demo versions of all their software that can be easily downloaded online. STI understands that every business and Police Department is as different as the people that make them up. STI products are complete, flexible and full featured. Visitors to SoftwareTech.com or EvidenceControl.com can try these tremendous solutions for themselves.
Blake Ogle, Product Sales Manager says, "Most of the businesses that download our software find it to fit them perfectly and buy an STI solution on the strength and value of our software alone!"
President Phil Muller, who is always looking to the market for technology that will address the changing business workplace said, "Brick and mortar business is no longer the rule. The virtual office, multi location and on-site work demands require flexible solutions that can operate on different platforms without sacrificing management controls".
STI invests heavily in R&D to address the opportunities of a Mobile World. Muller states," I value our most complex and difficult customers and work closely with them. They are the ultimate proving ground. When we get it right for them, and meet or exceed their demanding requirements we know we can be proud of our software and the value it offers. The future for STI is bright. We have achieved a high level of customer loyalty and satisfaction and our development work around mobile and web based solutions shows great promise."
###