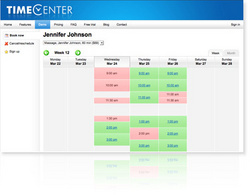 We promise that our customers will get more appointments or they get their money back.
(PRWEB) July 13, 2010
TimeCenter, a Sweden-based appointment scheduling software company recently conducted a survey with some incredible results: 80% of businesses using TimeCenter's appointment scheduling software saw an increase in appointments.
90% of customers surveyed said that they would recommend online scheduling to a friend or business. "TimeCenter is an affordable option from the online schedulers available. Also great customer service," said Jessica Abegg of Sanctuary Massage & Wellness. TimeCenter's clients include many industries: massage therapists, health, wellness, beauty salons, gyms, photographers, dentists and law firms.
TimeCenter's appointment scheduling software has many benefits: no more missed appointments or double bookings, clients remember their appointments with the help of automatic reminders and they can make appointments whenever they feel like it. TimeCenter provides all of this at only $29 per month and no starting fee. "TimeCenter saved me a lot of time and frustration by decreasing my calls and call backs by 75%," said Marcia Male of Wilson Acupuncture and Healing Arts Center.
Online scheduling has increased dramatically over the last few years, and the market continues to grow. TimeCenter is excited to offer customers an easy-to-use product, flexible enough to work in a variety of different industries and professions.
Dedicated to customer satisfaction and offering easy-to-use scheduling software, TimeCenter CEOs Niclas "the brains" Marie and Daniel "the looks" Ellenson have commented on the recent success of TimeCenter users with enthusiasm. "We promise that our customers will get more appointments or they get their money back," says Niclas. Niclas and Daniel have a lot to be confident about these days and continue to wow their customers with wonderful service and support.
TimeCenter is planning the release of an iPhone application in the near future to provide customers with even more scheduling options. Imagine working as a massage therapist and finding that you can make an appointment right in your phone, while talking with your client.
In 2005, TimeCenter was born as the brainchild of Niclas Marie and Daniel Ellenson. Niclas was asked to create an online scheduling program by a well-known massage therapy corporation. He then paired with his long-time friend Daniel, in an effort to create an appointment scheduling software to make life easier for millions of small business owners.
TimeCenter prides itself by providing quick helpful support, a great user-friendly product all at a competitive price. Would you like to know more? Get a free trial of TimeCenter and explore all the exciting possibilities of their online scheduling software.
###