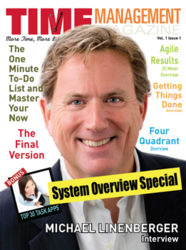 The few magazines which report on time management normally focus on popular systems, like David Allen's GTD system. This issue will focus on GTD PLUS another 4 time management systems. To the best of our knowledge, this is an App Store Newsstand first.
Winnipeg, Manitoba (PRWEB) September 21, 2012
The App Store Newsstand release of Time Management Magazine on September 23rd will supply readers with tips, advice, and tools to organize and capitalize on the advantages of time management. Readers will have the ability to discover One Minute To-Do List and Master Your Now by Michael Linenberger.
For procrastinators the world over, "The Final Version" from Mark Forster author of "Do it Tomorrow and Other Secrets Of Time Management" is included with a step by step walk through example.
In addition, an introduction to Four Quadrant prioritizing system will be featured. Kevin Rape will give an insightful overview and instruction to this incredible system for developing time management skills.
JD Meier author of "Getting Results The Agile Way" gives an overview of the Agile Results system in an article titled "Agile Results: A Personal Results System for Work and Life"
As well the most popular time management system, David Allen's "Getting Things Done" is overviewed.
"The company's goal is to assist people to gain control of their lives by utilizing time management, task management, productivity tips and techniques to enhance their self management skills" according to a Time Management Magazine representative.
About Time Management Magazine:
Time Management Magazine is an iPad only magazine that will be hitting the App Store Newsstand on September 23rd. The digital Time Management Magazine will feature articles and videos packed with valuable time management and productivity information.