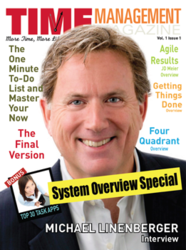 We believe that any time management that does not lead to self management is a waste of time
Winnipeg, Manitoba (PRWEB) September 23, 2012
A Time Management Magazine representative stated "We want people to have the opportunity to experience the magazine, so we have also released a free special edition that contains the first 10 pages of the magazine. If you like what you read in the free special then the full magazine is available with the promotional offer"
Those who purchase a subscription for the full magazine will instantly receive a 40% discount on the cover price of the magazine and a 1-month free trial. In addition to these savings, those who opt-in to the mailing list will receive an additional free month. This would mean it is possible to receive 2 months of Time Management Magazine absolutely free.
There are so many benefits to subscribing to Time Management Magazine. In the first issue , readers will have the opportunity to read an article from the person The Detroit News has referred to as "The Efficiency Guru", Michael Linenberger. As well as overview articles on several time management systems such as; GTD, Agile Results, The Final Version, and The Four quadrant prioritization system. Each article and interview has a video that assists the reader learn the concepts being described in the article.
Additionally Time Management Magazine names the top 30 paid iPad task management apps in this issue. A magazine representative commented "Anyone looking to implement a task management application will be pleased to read this issue because we have done the hard work of finding the most useful apps available."
"We believe that any time management that does not lead to self management is a waste of time." Said a magazine representative.
About Time Management Magazine :
Time Management Magazine is an iPad only magazine available from the Apple App Store Newsstand. The digital Time Management Magazine features articles and videos packed with valuable time management and productivity information.
Click Here To View Time Management Management In The Apple App Store.