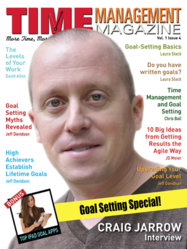 Craig [Jarrow] is one of the best in the time management industry and to have him for an exclusive interview is an honor
Winnipeg, Manitoba (PRWEB) January 31, 2013
"Each month Time Management Magazine tries to feature a professional in the field of time management. This month, for our fourth issue and new issue of 2013, we are proud to announce the interview will be available on our YouTube channel," said Glenn Watt, Senior Editor.
Craig Jarrow is the author of the book 31 Days, 31 Ways and was named the third most influential person in productivity today by Biz.com.
"Craig [Jarrow] is one of the best in the time management industry and to have him for an exclusive interview is an honor," Watt added.
Purchase a subscription for Time Management Magazine and instantly receive a 40% discount on the cover price plus a 1-month free trial. In addition to these savings, join our mailing list and receive an additional month of Time Management Magazine as a special bonus. In other words, get two months of Time Management Magazine absolutely free.
About Craig Jarrow: Craig Jarrow is the author of the book the book 31 Days 31 Ways, and the founder of Time Management Ninja .com. He helps individuals and companies reclaim their time. Visit his blog at http://www.timemanagementninja.com or on Twitter https://twitter.com/TMNinja @TMNinja
About Time Management Magazine: Time Management Magazine can be downloaded by searching in the App Store for "Time Management Magazine", If on an iPad or iPad Mini select "NewsStand" as the category. Once the app is downloaded, on the app home screen a free special, single issue, or subscription is available. Time Management Magazine is available only on the iPad and iPad Mini from the Apple App Store.