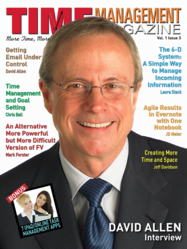 We're just beyond pleased to be able to feature David Allen in an interview. David Allen's contribution to human potential is legendary
Winnipeg, Manitoba (PRWEB) December 01, 2012
David Allen has spent more than 30 years coaching corporate managers, researching time management and has worked with CEOs of some of America's top companies. His work led him to be listed in Forbes' as one of the top five executive coaches in the U.S. Business 2.0 also highlighted him as a leader in the field. Time Magazine said his book "Getting Things Done" is "the definitive business self-help book of the decade."
"We're just beyond pleased to be able to feature David Allen in an interview. David Allen's contribution to human potential is legendary," Glenn Watt, Time Management Magazine senior editor. "David shares some of the tips he's passed on over the years and explains some very exciting ah-ha moments."
Mr. Allen said he was pleased to be interviewed by the magazine and hopes the interview and article can help people.
The interview appears in the third edition of Time Management which will be released Dec. 2.
Subscribers get a 40 percent discount on the cover price of the magazine and a 1-month free trial. Sign up for the mailing list and receive an additional free month. That's two extra months of Time Management Magazine absolutely free. Start a subscription before Dec. 2, and get the above and Issue 2 free. After Dec. 2, Issue 2 will only be available as an individual purchase for $4.99
For more information, visit http://www.TimeManagementMagazine.com .
ABOUT TIME MANAGEMENT MAGAZINE - Time Management Magazine can be downloaded by searching in the App Store for "Time Management Magazine", If on an iPad or iPad Mini select "NewsStand" as the category. Once the app is downloaded, on the app home screen a free special, single issue, or subscription is available. Time Management Magazine is available only on the iPad and iPad Mini from the Apple App Store.