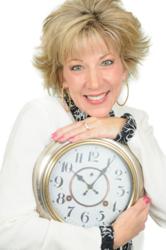 Laura's past articles and interviews in Time Management Magazine have been very successful. This article is certain to be as successful, if not more so
Winnipeg, Manitoba (PRWEB) January 24, 2013
Time Management Magazine has tips and techniques to help anyone with time and time management with practical strategies and tips that work.
"Too often we [the magazine] hear of fluff and no real practical application of time management. Our goal was to create a magazine that has tips that you can use and use immediately," said Glenn Watt, Senior Editor.
Issue Four has another great article from Laura Stack, the time management guru. In an exclusive article, Laura shares some of her management techniques with Goal Setting Basics.
"Laura's past articles and interviews in Time Management Magazine have been very successful. This article is certain to be as successful, if not more so," said Watt.
Purchase a subscription for Time Management Magazine and instantly receive a 40% discount on the cover price plus a 1-month free trial. In addition to these savings, join our mailing list and receive an additional month of Time Management Magazine as a special bonus. In other words, get two months of Time Management Magazine absolutely free.
About Laura Stack: Laura Stack is a 20 year veteran in the field of time management. Her company, The Productivity Pro®, Inc., has workshops internationally and has been featured in media on CNN, USA Today, The New York Times and CBS Early Show.
Learn more at: http://www.TheProductivityPro.com or http://www.twitter.com/laurastack.
About Time Management Magazine: Time Management Magazine can be downloaded by searching in the App Store for "Time Management Magazine", If on an iPad or iPad Mini select "NewsStand" as the category. Once the app is downloaded, on the app home screen a free special, single issue, or subscription is available. Time Management Magazine is available only on the iPad and iPad Mini from the Apple App Store.